EACH volunteers begin returning to their 'new normal'
---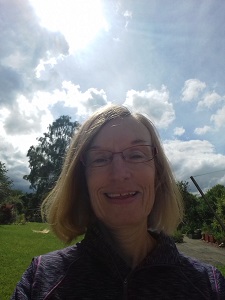 After months of uncertainty and concern, volunteers who support East Anglia's Children's Hospices (EACH) are slowly beginning to resume activity.
At the start of June, during Volunteers' Week, EACH volunteers featured in a video expressing their concerns for the charity and the families supported by it during a period that has seen the good cause take a considerable funding hit. Volunteers told of their disappointment that fundraising events they planned to support were having to be cancelled, also mentioning the impact the closure of shops was having.
With all 43 EACH shops now open again, some volunteers have returned to their retail roles, whilst others have returned to gardening and essential maintenance at the charity's hospices in Milton, near Cambridge, at The Treehouse, in Ipswich, and at The Nook, near Norwich.
One of the first back was Val White, 60, from South Norfolk (pictured), a former children's nurse who gardens at The Nook on a weekly basis.
She said: "It has been lovely being back in the gardens at The Nook. We're working in smaller groups, social distancing and for shorter spells to avoid having to go into the hospice. I missed the contact with fellow gardeners and was disappointed we missed out seeing all the spring bulbs in flower, several thousand of them that we'd planted. I'll soon be returning to my Help at Home role in a couple of weeks, which I'm excited to start again, and am looking forward to catching up with the family."
EACH Help at Home is a scheme that matches volunteers with a family to provide practical home support such as ironing, cleaning and gardening. This invaluable service has just restarted, with volunteers only providing outdoors help.
Hannah Milbourne, EACH Volunteer Services & Development Manager, said: "We've all been thinking about our amazing volunteers and the help they provide to the charity, and the families we support. Whether that's through EACH Help at Home, fundraising events or our shops, we're excited to continue welcoming some of those volunteers that can safely carry out their roles back."
EACH is currently taking on shop volunteers. Anyone who may be interested should go to the charity's website, www.each.org.uk, call 01223 205183 or email volunteerservices@each.org.uk.
East Anglia's Children's Hospices (EACH) aims to maximise the quality of life for children and young people with a life-limiting or life-threatening condition, and to support their families.
East Anglia's Children's Hospices (EACH)