Autonomous vehicle trials proposed for University's West Cambridge site
---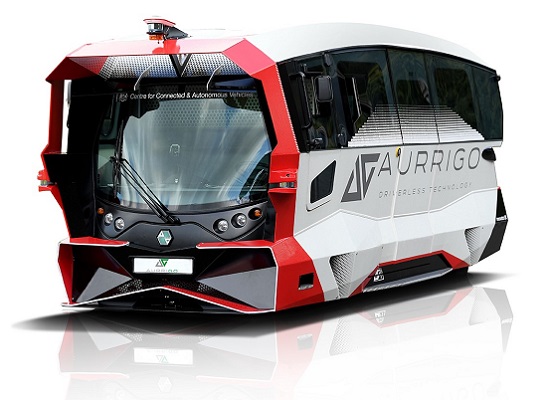 A new 12-seater autonomous shuttle is set to roll out on the University of Cambridge's West Cambridge site this autumn.
Autonomous vehicles are being trialled as they could offer people a safe and reliable way to travel to the city centre and employment sites in the future, in particular being good for extending out-of-hours services. These project trials look at the feasibility of the technology being used as part of a much stronger public transport service that will maintain air quality and accessibility as Cambridge traffic increases.
The trial had been planned to run on the existing guided busway between the Trumpington Park & Ride site and Cambridge railway station via the Cambridge Biomedical Campus, and has been relocated to the University's West Cambridge site following Covid-19 disruption.  The new shuttles do not require the concrete structures that the old busways use so it is better to trial them on the more representative site.
Passengers will be selected by the project team and there will be a maximum number to meet social distancing rules during the trial.
The self-driving shuttle is part of a trial developed by a consortium of Smart Cambridge, a workstream of the Greater Cambridge Partnership (GCP), and engineering firm Aurrigo.  Smart Cambridge won Government funding to support this work and Coventry-based engineering firm Aurrigo is the autonomous vehicle division of RDM Group.
Dr Richard Fairchild, operations director at Aurrigo, said: "We're really excited to be bringing our autonomous vehicles to Cambridge and can't wait to get started after the COVID-19 delays.

"This trial will showcase the power of the partnership of UK engineering companies and government support through Innovate UK to deliver world class products and services to both create a driverless transport option to benefit residents and secure the UK position on the world stage in autonomous technology."
If successful, the GCP will have evidence to consider when planning future transport schemes – which may mean self-driving vehicles could be rolled out elsewhere around Greater Cambridge in the future.
Claire Ruskin chairs the GCP's Smart working group and adds "Running good public transport 24/7 is very costly and we are finding ways to make it affordable for the future, so that we can help people find sustainable ways to make their daily journeys, to reduce both pollution and congestion."
Smart Cambridge
The work of Smart Cambridge is supported by the Connecting Cambridgeshire digital connectivity programme, led by Cambridgeshire County Council, with investment from the Greater Cambridge Partnership.
Smart Cambridge is exploring how data, emerging technology and digital connectivity can be used to transform the way people live, work and travel in the Greater Cambridge area and beyond. This rapidly evolving programme is looking at how the latest technologies can improve quality of life, sustainability and the economic strength of the area. Local councils, technology businesses, university researchers and partner organisations are working together to find smart ways to tackle urban challenges, such as transport and air quality.
The work supports the wider ambition of the Greater Cambridge Partnership, which is investing in transport, housing and skills to facilitate sustainable economic growth in the region.
Visit www.connectingcambridgeshire.co.uk/smart-cambridge follow us on Twitter and LinkedIn.
The Greater Cambridge Partnership is the local delivery body for a City Deal with central Government, bringing powers and investment, worth up to £1 billion over 15 years, to vital improvements in infrastructure, supporting and accelerating the creation of 44,000 new jobs, 33,500 new homes and 420 additional apprenticeships.
Greater Cambridge Partnership