Essence of lockdown captured in hospital exhibition
---
The incredible outpouring of creativity seen during the Covid-19 lockdown has been captured in a thought-provoking exhibition at Addenbrooke's Hospital.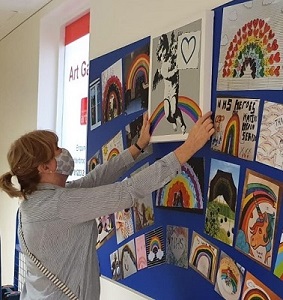 Called "Together" and occupying 25 metres of the main corridor between the museum and Addenbrooke's Treatment Centre, it features the work over five months of staff, patients, schools, artists, and the wider public.
Currently, only those who are already attending hospital can view the exhibition, but organisers have plans to film the display so it can be viewed online.
It has been curated by CUHArts – the Addenbrooke's hospital arts programme, with support from Addenbrooke's Charitable Trust (ACT), and features everything from lovingly coloured rainbows submitted by schoolchildren, to messages of support from the local community.
Professional artists created memorable portraits of staff as part of the national #PortraitsForNHSHeroes campaign, while much-loved illustrator, Sir Quentin Blake, and past president of the Royal Society of Painter Printmakers, Anita Klein, donated their artwork for staff, patients and others to colour in.
More than 30 staff created their own poems, or words, under the heading "Beyond the Mask", which nationally acclaimed poet Sean Borodale reviewed before turning ideas into his own staff super sonnet.
CUH Arts partners the Fitzwilliam Museum produced a special series of films and postcards, designed to support the wellbeing of patients and healthcare workers whilst museum staff are unable to make their regular visits to wards and clinics. 
Science-based artist and communicator, Dr Lizzie Burns from London, inspired CUH Arts to launch an origami challenge, which helped distract many staff during visits to The Sanctuary – a quiet space for staff to refresh and recharge.
There is a display of photographs by staff who were asked to capture Spring – another challenge by CUH Arts to distract, lift spirits and get weary colleagues into the fresh air.
Staff and patients were signposted to 'Colour to Connect' – an online global initiative created by arts-in-health non-profit organisation 'A Space Between' – aimed at encouraging the exchange of art with others across the world to help people feel connected at a time when many felt alone.
Head of CUH Arts, Natalie Ellis, said: "We knew from the outset that art in all its guises would be an important outlet for staff, patients and the wider public who found themselves under massive pressure as a consequence of Covid-19.The weekly clap, regularly supported by musicians, dancers and other expressions of gratitude, was a graphic example of that.

"So with the help from ACT, and other key partners from the world of art, we tried to provide the ideas and tools for people to be creative. We were frankly staggered by the response, and delighted to be able to feature in this dedicated exhibition some of the hundreds of pieces created."
Anyone who wants to supported ACT can visit its website at https://www.act4addenbrookes.org.uk/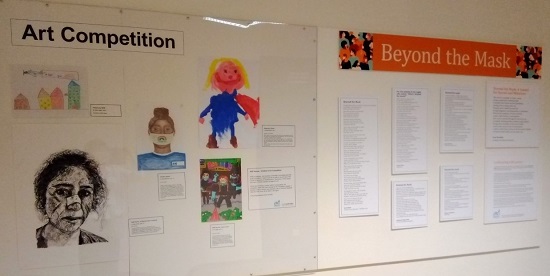 Images (top and bottom): Some of the many exhibits
(Inset): Arts project manager Lesley Bermingham puts the final touches to the exhibition.
Cambridge University Hospitals is one of the largest and best known trusts in the country. As the local hospital for our community we deliver care through Addenbrooke's and the Rosie hospitals.
Cambridge University Hospitals NHS Foundation Trust