Solar carports to provide green energy at new Alconbury HQ
---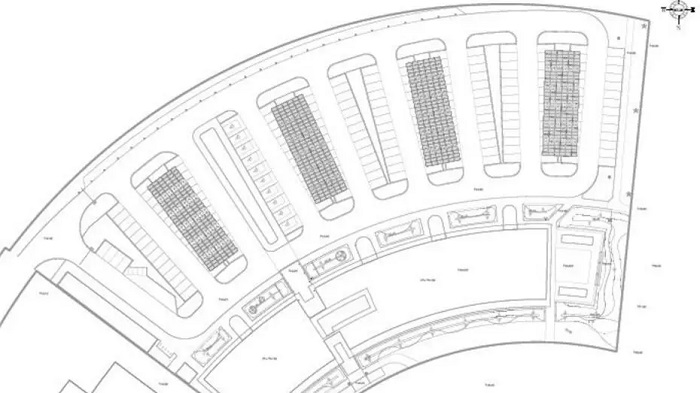 Solar canopies are to be installed in the car park at Cambridgeshire County Council's new Alconbury headquarters.
The canopies – which are subject to planning permission - will not only charge electric vehicles but also provide energy for the building itself in Alconbury Weald, further improving the building's carbon footprint.
The scheme will be funded by borrowing - £448,000 in 2020-21 and an additional £480,000 in 2021-22 – which was approved by the Council's General Purposes Committee (GPC) on 23 March.
The design of the new HQ – named New Shire Hall - already includes solar panels on the roof to reduce energy usage from grid electricity and air source heat pumps, a low carbon solution for heating buildings, replace the need for fossil fuel heating on site.
Adding the solar carports will increase the volume of electricity generated to meet approximately 40 per cent of the on-site electricity demand and support clean energy for the EV chargers.
The project comprises a double-bay carport system, with four rows of solar carports. These rows are positioned on every other cluster of parking bays, resulting in an even distribution across the car park which follows its curved layout design.
The decision by the GPC will mean a reduction of 720 tonnes of carbon emissions at the New Shire Hall through onsite renewable electricity generation. The carports will be built at the same time as the new building is fitted out.
Cllr Josh Schumann, Chairman of Cambridgeshire County Council's Environment and Sustainability Committee, said: "I am delighted that General Purposes Committee have agreed to fund this forward-thinking project. We are committed as a Council to reducing our carbon footprint and where better to showcase this than at our new Alconbury Weald headquarters."
Council leader and climate change champion Cllr Steve Count, who is also chair of the national Countryside Climate Network said: "The solar carports reaffirm our determination to be fossil fuel free for the Council buildings we own and occupy by 2025 and this makes a contribution to getting Cambridgeshire towards being carbon neutral by 2050. They will enable us to encourage cleaner methods of travel, as well as providing clean power for New Shire Hall. They will save money and the environment – both of which the residents of Cambridgeshire expect and deserve."
Image: Solar carport layout
To read more information, click
here.
Cambridgeshire County Council has a track record of high achievement and a reputation for continuous performance improvements across all its services.
Cambridgeshire County Council