Jewellery, Silver & Watches Sale grosses over £210,000 at Cheffins as antique examples continue to be flavour of the month
---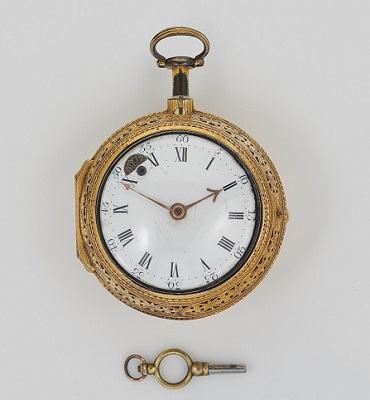 Cheffins' first Jewellery, Silver and Watches Sale of 2021 grossed over £210,000 at the firm's salerooms in Cambridge last week.
One of the highlights of the sale was a rare and highly collectable Daniel Quare pocket watch (above). Dating back to 1700, this was one of Quare's early examples of a 'repeater' and is an important example of early watchmaking. Following competitive bidding from private collectors from both the UK and overseas, the watch sold for £7,500 to a buyer from Russia, well over its estimate of £3,000 - £5,000.
Of the large contingent of Georgian jewellery on offer, a lover's eye ring achieved £3,200, well over its estimate of £300 - £500, also selling to a Russian buyer whilst a Georgian padlock bracelet sold for £950 to a buyer from the United States, also above its pre-sale guide price.
Also among the jewellery section, a 20th century necklace of graduating natural saltwater pearls, achieved £6,400, against a guide price of £1,000 - £1,500 to a buyer from Dubai, and an 18ct white gold emerald cut diamond solitaire ring which sold for £6,500 to a UK buyer. There was also a series of designer pieces available, with a Theo Fennel cross pendant which had an estimate of £1,000 - £1,500 and sold for £2,000 and a Kutchinsky diamond and ruby set squirrel brooch which was estimated at £800 - £1,200 and sold for £1,500, whilst a Child & Child Art Nouveau pearl and enamel brooch achieved £1,000, against an estimate of £400 - £600.
The silver section saw over 100 lots from around the world with examples from the early 18th century to the present day. Highlights included a magnificent 210 piece set of 19th century French silver cutlery housed in two wooden canteens  (pictured) which sold to a UK buyer for £5,500. Also on offer was a George III 18th century lidded beer mug by Thomas Chawner which sold for £800 and a nutmeg grater dating back to 1865 by silversmith, George Unite, sold for £900, well over its estimate of £100 - £200.
Steven Collins, Head of Jewellery, Silver and Watches at Cheffins said: "The results of the April sale proved the demand for good quality, antique jewellery, silver and watches from private and trade buyers from across the world. Antique items by some of the biggest names in silversmithing and jewellery continue to be the most in demand, and the collecting trade for watches has continued to hold firm over the past 12 months. We were pleased to welcome the public back to the salerooms for our first jewellery, silver and watches sale of the year, and it was fantastic to see live bidding in the room once more. Although the online sales which we hosted last year proved incredibly successful, the buzz of the auction room was with us once more for this sale and long may it continue."
The next Cheffins Jewellery, Silver and Watches Sale will take place on 26th August 2012. The closing date for entries for this sale is 7th July.
Please note that values reported are hammer prices and are not inclusive of buyers' premium and VAT (29.4% total).
Cheffins is a market leading firm of surveyors, valuers, property advisers and auctioneers. What distinguishes Cheffins is its unique range of specialisms and pre-eminence in them, regionally, nationally and internationally.