Newmarket Road closes this weekend
---
Newmarket Road will be closed from 8pm-8am on Saturday 5th and Sunday 6th June.
Newmarket Road will be temporarily closed overnight between the Leper Chapel and Ditton Walk from 8pm- 8am on Saturday 5th June. A contingency date of Sunday 6th June 8pm-8am has also been allocated to allow for any unexpected delays, says the Greater Cambridge Partnership.
This is to allow work to continue on the installation of the underpass which will mean those using the Chisholm Trail will not have to use a pelican crossing to cross Newmarket Road – giving pedestrians, cyclists and other non-motorised users a safe crossing and helping motor traffic flow more freely along Newmarket Road.
The map below shows the signed diversion route for cyclists and pedestrians across Coldhams Common or via Ditton Meadows using the jetty path. For pedestrians who are unable to use the diversion route there will be a free of charge shuttle service available from one side of the closure to the other. The service will operate every 30 minutes, for the duration of the road closures. It will run from outside the Honda Garage on the City side of the closure to outside Cambridge United on the Barnwell side of the closure. The service will be in line with COVID guidelines for public transport.
Please be aware that changes to bus services in the area may be subject to change. For the most up to date information please check directly with stagecoach here.
Phase one of the Chisholm Trail, which will link Cambridge North Railway Station with Coldhams Lane, will open later this year.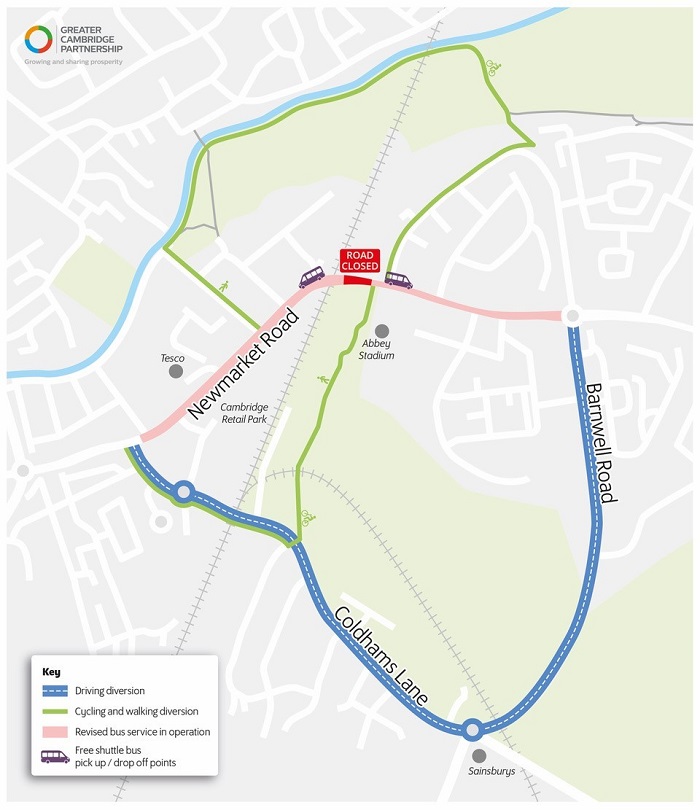 The Greater Cambridge Partnership is the local delivery body for a City Deal with central Government, bringing powers and investment, worth up to £1 billion over 15 years, to vital improvements in infrastructure, supporting and accelerating the creation of 44,000 new jobs, 33,500 new homes and 420 additional apprenticeships.
Greater Cambridge Partnership