Cambridge Water sponsors Cambridge University Botanic Garden Dry Garden
---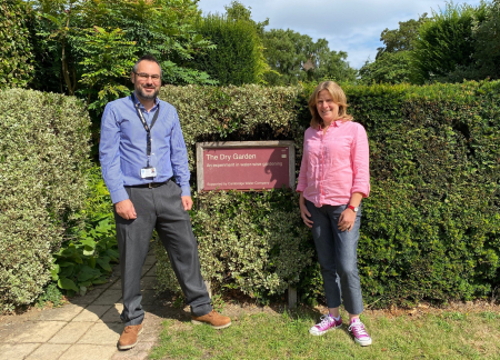 Cambridge Water has renewed its partnership with the Cambridge University Botanic Garden by continuing to sponsor its 'Dry Garden'.
Water is a precious resource locally and globally, and the south east of the UK is classed as water stressed. Cambridge receives an annual average of only 557 mm of rainfall per year, with its climate classified as 'semi-arid', so the plants in the Dry Garden have been selected for their ability to survive in low rainfall. The plants selected show that gardens can be beautiful, without the need for additional watering.
Daniel Clark, water resources and environment manager at Cambridge Water, said:
"The Dry Garden is a beautiful place, which shows that you don't need lots of garden watering or to use a hosepipe, to have a beautiful garden, especially when a hose or sprinkler uses enough water to fill twelve baths every hour.
We're happy to sponsor the Dry Garden and ensure that it remains a wonderful place to visit, as well as serving as an example of how drought-resistant plants can be used to achieve a colourful garden, while using water-wisely.
"Saving water is vital, so that future generations will have enough to go round and we can continue to protect our environment, including our precious chalk streams. We are committed to playing our part, by reducing leakage and renewing our network of pipes. We also want to show our customers that by making small changes, everyone can make a big difference.
"I'd encourage everyone to visit the Dry Garden and see it for themselves."
Sally Petitt, Head of Horticulture, at Cambridge University Botanic Garden, said:
"This sponsorship, by Cambridge Water, is a huge help to us. It means our horticultural team will be able to keep the dry garden up to date and fresh, and continue to inspire gardeners about the use of drought-resistant plants."
About CUBG:
Supporting leading scientific research and welcoming thousands of visitors every year, Cambridge University Botanic Garden is one of the largest University-owned botanic gardens in the world. The Garden's living plant collection of over 8,000 species is spread across 40 acres of landscaped gardens. The collection, which includes iconic and endangered trees and plants, supports University research towards meeting many of the world's greatest future challenges (such as food security, climate change and medicine). The Garden also inspires schools, the local community and visitors from around the world about the importance of plants and plant science, horticulture and the joy of gardening.
About Cambridge Water:
The company provides water to around 351,000 people living in an area of 1,175km2 around the city of Cambridge. This extends to Ramsey in the north, Gamlingay in the west, Balsham in the east and Melbourn in the south.
Since its opening in 1846, Cambridge University Botanic Garden has been an inspiration for gardeners, an exciting introduction to the natural world for families and a refreshing oasis for all our visitors.
Cambridge University Botanic Garden