Adder expands distribution partnership for the Nordics region
---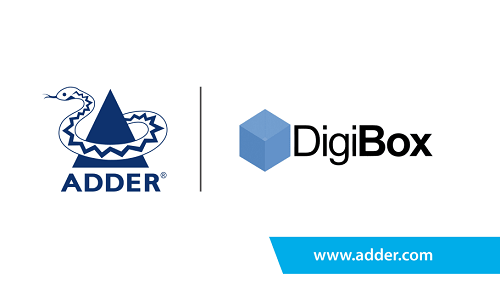 Partnership with DigiBox set to grow media and entertainment market in Nordics.
Cambridge, UK  Adder Technology, a global specialist in connectivity and IP KVM solutions, has today extended its successful relationship with recognized and respected distributor, DigiBox. For over a decade, Adder has been working with the specialist media and entertainment partner in the UK&I, and a new distribution agreement will see the partnership extend to the Nordics region.
The partnership:
Grows established footprint in the Nordics

Builds on proven relationship with trusted partner

Supports growing network of resellers and system integrators in the region
"DigiBox has a well-established distribution network in the Nordics and I am delighted that we can now expand our portfolio to offer Adder's award-winning line up of IP KVM products in the region" said Marc Risby, DigiBox managing director and CTO. "Our specialist technical sales team have a wealth of experience with Adder's range, so they are ideally placed to serve this exciting new market."
Speaking about the partnership, Jamie Adkin, VP EMEA, Adder said, "Customers in the Nordics have demonstrated early adoption of our IP solutions and 4K technology. DigiBox is the perfect partner to support our channel-first strategy and growth in the media and entertainment space. The Nordics are a key market for Adder, and we firmly believe that this expanded venture will better support our partners in the territory."
Specifically focused on the media and entertainment market, DigiBox will distribute Adder's full range of innovative solutions across the market including the multi award-winning ADDERLink® INFINITY 4000 Series (ALIF4000) and Adder's latest range of IP KVM dongles. Designed to support organizations looking to take advantage of the benefits of IP KVM while making efficient use of valuable rack space, the latest additions to Adder's ZeroU™ portfolio give customers even more choice when it comes to connectivity.
Duncan Miller, director of global marketing, Adder said, "Adder is passionate about supporting its partners around the globe and this is a great way to kick-start 2022. DigiBox is a real advocate of Adder's global partner initiatives. From lead generation campaigns, educational videos, and training webinars the DigiBox team have continued to drive market education and better serve their customers. We look forward to working with them and expanding these initiatives into the Nordics."
For more information about Adder's product range or to find your local distributor, please visit www.adder.com.
Adder Technology is the leading European developer of KVM switching and extender technology. The company's products reduce the complexity, vulnerability and cost of IT environments by providing robust remote access to and direct control of local computing systems.