ARU students help Headway make an IMPACT!
---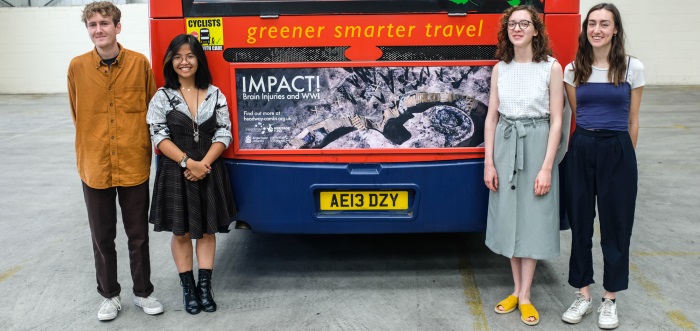 Illustration students assist research project looking into WW1 brain injuries
'IMPACT! Brain Injuries and WWI', a research project carried out by people who have brain injuries themselves, has been launched in Cambridge with the help of students from Anglia Ruskin University (ARU).
The project is being led by Headway Cambridgeshire, a local brain injury charity, which received a grant from The National Lottery Heritage Fund to share the untold history of local Cambridgeshire soldiers in WWI who received brain injuries, and the doctors, nurses and hospitals who treated them.
The research group is made up of people with brain injuries, who have used the research process as part of their own rehabilitation, working alongside local community groups.
ARU illustration student Cecelia Wood designed the cover for the research report, and along with fellow students Alice Nguyen, Sam Bryson and Kez Hulse produced a number of posters to help promote the work. These eye-catching designs can currently be seen across Cambridgeshire on 28 buses operated by Stagecoach and Whippet.
The findings of 'IMPACT! Brain Injuries and WWI' will be presented at a series of events this summer.  On Thursday, 4 July (7pm) students from Oakes College at Netherhall School and Coleridge Community College will perform dramatic and musical pieces inspired by the research. The event takes places at ARU's Mumford Theatre and tickets are available from the Mumford Theatre box office.
Kathy Bullock, CEO of Headway Cambridgeshire, said: "We are proud to see our clients leading such a positive community collaboration. At Headway Cambridgeshire, we pride ourselves on helping people tell their stories, so it is particularly impactful to be able to share the untold stories of those who experienced brain injury during WWI."
Students from more than 185 countries study with us. Our students are at the heart of our University: their educational experience engages, challenges and empowers them to reach their full potential.
Anglia Ruskin University (ARU)