Cambridge Consultants delivers a new surgical experience
---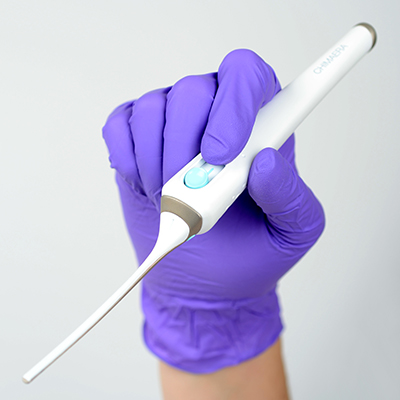 A unique surgical tool development from product design firm Cambridge Consultants is set to transform complex life-saving operations.
Chimaera enables surgeons to identify and highlight critical structures, such as nerves and blood vessels, as never before. The technology then guides the surgeon to the precise location of a procedure, even deep within the body – helping to ensure the surgical device stays on a predetermined safe pathway.
Chimaera combines novel sensing with the latest user-interface, control and guidance technologies to create a revolutionary new way to deliver the next generation of miniaturised neurostimulators to specific nerves. It brings together preoperative and intraoperative data from multiple sources in real time. So a surgeon can 'see' exactly where they are within the body at any point during an operation, with a visualisation of anatomical information – such as the location of nerves – not available from preoperative imaging such as CT scans.
At the heart of Chimaera is an innovative handheld device that integrates the surgical, sensing and implant delivery functions. Sensors on the device detect, in real time, anatomy like major blood vessels that need to be avoided. This information is combined with a preoperative plan to help the surgeon keep the surgical tool within a safe 3D 'tunnel'. The sensors also let the surgeon know when the target nerve has been reached – and the implant can then be deployed down the device.
"This novel surgical device has the potential to fundamentally change the surgical experience by giving the surgeon a new dimension of information in an easy-to-use way," said Simon Karger, head of surgical and interventional products at Cambridge Consultants. "Specifically, it opens the door to a new generation of neurostimulation implant procedures. And, more generally, it will enable more surgeons to carry out complex operations at lower risk and with better results for patients.
"Identifying and locating critical structures, such as nerves or blood vessels – to either avoid or target them – is a vital part of surgical skill. But today's tools are largely passive, offering surgeons little support in this regard. Our Chimaera surgical concept delivers advanced sensing technology into the hands of the surgeon – giving them real-time, intraoperative feedback."
Chimaera uses preoperative CT scan data to create a 3D image of the area to be operated on. A safe implantation route can then be defined – and, during the operation, the actual view from the surgical tool is superimposed on this operative plan on a screen so that the surgeon can see at a glance his precise location at any time.
"This innovative surgical tool development is the result of our extensive experience of surgical equipment innovation and our understanding of the operating theatre environment and workflow," said Karger. "It brings together our expertise in neurostimulation, next-generation device development, sensing technologies and software development in a truly revolutionary smart system."
_________________________________________________
For over 50 years, Cambridge Consultants has led the way in innovative product development. We are the development partner of choice to many of the world's leading blue chips, as well as the virtual development team for ambitious start-up companies.