Cambridge Financial Adviser Jonathon Clarke raises £3,750 for EACH
---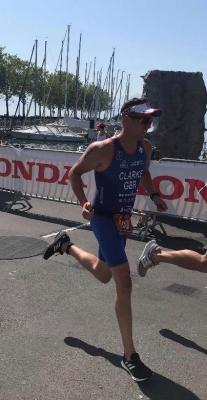 Jonathon Clarke, Independent Financial Adviser at Martin-Redman Partners; raised a great sum for East Anglia's Children's Hospices (EACH) last weekend.
EACH supports families and care for children and young people with life-threatening conditions.
Jonathon competed for Great Britain at the World Triathlon Championships in Switzerland last week and offered sponsorship spaces on his GB Kit, with 100% of the money he raised going to EACH. Many Martin-Redman Partners clients, and many of Jonathon's family and friends donated, bringing the grand total to £3,750.
Jonathon commented: "Firstly, can I thank everyone who sponsored me by donating to EACH, for whom I was raising money. We raised a fabulous £3,750. Can I take this opportunity to give a special thank you to the three companies who donated the highest amount:
All of your donations will help EACH continue to carry out the great, and incredibly valuable work they do in supporting families and providing care for children with life-threatening conditions"
Jonathon finished 19th out of a field of around 100, in his 35-39 age group which was a real achievement.

A big congratulations from all at Martin-Redman Partners for all you have achieved.
Arrange a Meeting with Jonathon Clarke, Independent Financial Adviser (IFA). 
Please contact Jonathon at jlc@martin-redmanpartners.co.uk or call on 01223 792 196 to arrange an introductory meeting to discuss your financial planning, at no cost to yourself.  
About Martin-Redman Partners   
We are a team of experienced Independent Financial Advisers (IFAs) who can advise on your personal or business financial arrangements. We have been building trusted relationships with clients for many years by articulating clear and tailored recommendations in areas ranging from investments to retirement planning, to complex estate planning advice.  
We offer expert independent financial advice throughout Cambridgeshire, Leicestershire, Suffolk, East Anglia and the South East.  Many of our clients are within, or are in the surrounding areas of Cambridge, Grantham, Stamford, Bury St Edmunds, Frinton on Sea, Ely, Peterborough, Huntingdon, Cambourne, Newmarket, Soham and Oundle. 
 The information contained is for guidance only and does not constitute financial advice. It is based on our understanding of UK legislation, whether proposed or in force, and market practice at the time of writing. Levels, bases and reliefs from taxation may be subject to change. Accordingly, no responsibility can be assumed by Martin-Redman Partners its officers or employees, for any loss in connection with the content hereof and any such action or inaction.  
We provide independent financial advice on investments, pensions, inheritance tax planning and protection. We work with private individuals, businesses and professional introducers, such as accountants and solicitors, to ensure our clients financial advice needs are met.