Darktrace named one of UK's 'Great Places to Work'
---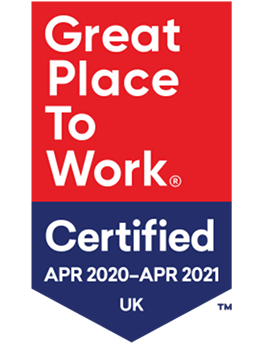 Darktrace, the world's leading cyber AI company, has earned designation as one of the UK's 'Great Places to Work' 2020.
Great Place to Work UK is a global authority on workplace culture. Using validated employee feedback gathered with Great Place to Work's rigorous, data-driven methodology, the certification confirms that the majority of employees have a consistently positive experience at Darktrace.
As such, the company will appear on an official list of the UK's Great Workplaces 2020-2021, to be published in The Sunday Telegraph and The Guardian. Previous listees include tech giants Salesforce and Deloitte.
With a workforce compromised of 40% women, the certification also cements Darktrace a place on the list of the UK's Best Workplaces for Women, to be published in Elle Magazine in July 2020.
When asked what makes Darktrace a great place to work, one junior employee commented: "[Working at Darktrace,] you really feel a part of the innovative impact that our product is having on the cyber security landscape. You work with some of the brightest and most brilliant people in tech, who always find solutions to great problems."
Another commented: "When someone asks me if I like working at Darktrace, I immediately draw a proud smile."
Poppy Gustafsson, CEO, Darktrace, commented: "I am delighted that Darktrace is certified as a great place to work. Darktrace aims to lead for the future, and this is the driving force in everything we do: from our ground-breaking advances in artificial intelligence to our workforce. We are proud to play an important role in developing the cyber skills base in the UK, and encouraging more people to consider a career in the technology and cyber security sectors."
"We congratulate Darktrace on achieving their Certification," said Benedict Gautrey, Managing Director of Great Place to Work UK. "Organisations which put the employee experience at the heart of their business gain their employees' trust and in turn are truly able to build great workplace culture that delivers outstanding business results."
Darktrace is the world's leading AI company for cyber security.