Dolomite Bio offers flexible single cell encapsulation for autoimmune disease research
---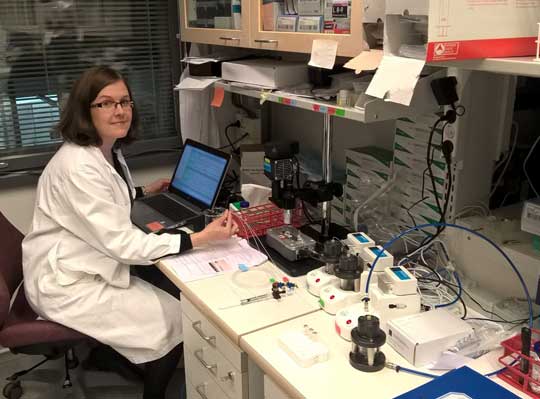 Dolomite Bio's Single Cell RNA-Seq System is helping researchers at the University of Helsinki to investigate autoimmune diseases.
Add This Share Buttons
Focusing on gastrointestinal conditions – such as coeliac disease and inflammatory bowel disease – the Molecular Genetics of Immunological Diseases group is using the system to study T-cell activation and response at the single cell level.
Dr Päivi Saavalainen, Principal Investigator (pictured), explained: "We are primarily interested in the genetics and immunopathogenesis of these diseases, and the ability to study the molecular biology of individual lymphocytes is an important part of our work. I became interested in microfluidics for single cell encapsulation around a year ago, following the publication of the Macosko paper1. At the time, there was no bespoke system for performing the Drop-seq method but, by the time I had secured funding, Dolomite Bio was offering the purpose-made Single Cell RNA-Seq System.
"I'm not an expert in microfluidics, so being able to purchase a complete package – without needing to select my own chip design, pumps and tubing configuration – made the choice very easy. We have had the system since May, and I'm pleased with the throughput it offers.
"There was a bit of a learning curve, as we were not familiar with microfluidics technology, but we can now produce a few thousand individually encapsulated and barcoded cells in a single 15 minute run. Another nice feature of the Dolomite Bio system is that it's quite flexible. This allows you to develop your own protocols, and we have been able to optimize the chemistry and our libraries to perfectly match our downstream processes."
For more information, visit www.dolomite-bio.com
1 Macosko E et al. (2015). Highly parallel genome-wide expression profiling of individual cells using nanoliter droplets. Cell 161(5), 1202-14. 

About Dolomite Bio
Dolomite Bio creates innovative products for high throughput single cell research. By encapsulating single cells in microfluidic droplets, our products enable rapid analysis of thousands or millions of individual cells and their biological products.
Dolomite Bio is a brand of Blacktrace Holdings Ltd (www.blacktrace.com), a world leader in Productizing Science®. Our Head Office is based in Royston (near Cambridge), UK and we have regional offices in the USA, Japan, India and Brazil.
Dolomite Bio's products include μEncapsulator System and RNA Seq system, suitable for use in many applications such as isolating antibody coding sequencing, profiling T cell receptors, droplets for FACS-sorting libraries and encapsulating cells in gel microbeads. To find out more about Dolomite Bio, please visit www.dolomite-bio.com
________________________________________________.
Dolomite Bio creates innovative products for high throughput single cell research.
Dolomite Bio (a member of the Blacktrace Holdings Group)