Electroprint adds 'Another Dimension' to exhibit display with Inca printer
---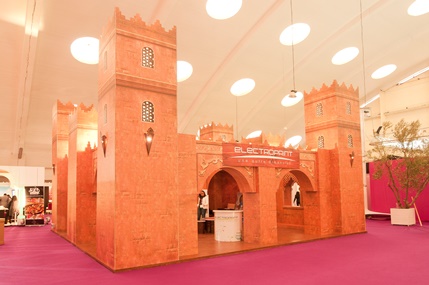 Stunning Moroccan architecture has been reproduced on an Inca Digital flatbed printer.
With the opening of new markets, the events industry has significantly developed in the Mediterranean. Morocco-based exhibit display company Electroprint, (whose slogan is 'Another Dimension'), showcased their capabilities at Dom&Event, the International Events Exhibition held in Casablanca.
Electroprint wanted to introduce a new way of making a large-scale, quality exhibit booth that could be produced quickly and installed easily. They decided to use white Reboard, because it is a strong, stable, printable, and environmentally friendly substrate.
When deciding what to build for the job the company took inspiration from their own country, referring to pictures of an old Moroccan city in the southern area of the country known as the "Kasbah". In architectural terms, a kasbah was a place for the local leader to live, and a means of defense when a city was under attack.
They produced a small, complete medieval fortified city with typical Moroccan architecture, including towers and fountains, fitting a booth space of 9m x 9m (29 feet x 29 feet) with 8m (26 feet) height for the corner towers. With a traditional Moroccan design and architectural look, it came complete with tower lamps, arched entrances, ornate inside walls, 'wooden' furniture, and customary artwork on the walls. The company also worked from three-dimensional utilitarian ExpoPrint displays, desks, and literature holders - everything created from Reboard.
The principal challenge was to demonstrate that it was possible to produce and install a large booth including furniture and lighting in a very short period of time with a minimum of on-site logistical complications. For the job, they used an Inca Columbia Turbo digital inkjet flatbed four-colour printer. Electroprint used more than 1000 sqm (more than 10,000 square feet) of 16mm white Reboard printed in high quality mode in less than 2 days (including cutting and finishing). The high resolution of the printer gave Electroprint the ability to reproduce the characteristic textures and natural wall, wood and metal effects. The installation itself took less than one day to build, using only plastic screws to connect and mount the Reboard panels.
Electroprint demonstrated that it was possible to print and deliver, very quickly, a creative, high quality, ambitious display. They exhibited the display twice. Both times, they were awarded the prize for the most innovative booth as well as for the most environmental booth.
Their efforts also paid off with an Inca IDEAs award in the category of Display Graphics. Judges commented: "Wow, truly impressive amount of print. Full marks for effort and ambition."
*******
For further information please contact:
Inca Digital Printers: Heather Kendle T: +44 (0)1223 577800 E: heather.kendle@incadigital.com
Ruth Clark / Melinda Williams, Splash!PR T: +44 (0)1580 241177 E: ruth@splashpr.co.uk / melindaw@splashpr.co.uk
______________________________________________
To read more information, click
here.
Manufacturer of wide format digital printers.
Inca Digital Printers Limited