Field Pathogenomics a defence against rust and other 'cereal killers'
---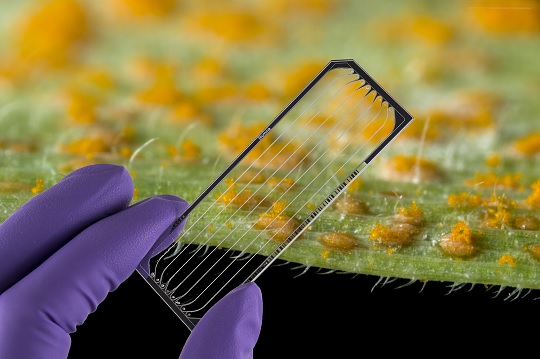 Leading scientists discuss rust prediction and prevention at forthcoming Agri-Tech East event.
With the announcement that 'Kranich' yellow rust race has been detected in the UK for the first time, together with an increase in fungal infection among previously resistant varieties, a new approach to disease management and prediction, Field Pathogenomics, is to be welcomed. It is one of the promising new methods to be discussed at forthcoming Agri-Tech East Pollinator "Rusts and other Cereal Killers", sponsored by Hutchinsons and hosted by NIAB on 12 April 2016.
Dr Diane Saunders, a research Fellow in Crop Genetics for both John Innes Centre and the Genome Analysis Centre says: "Field Pathogenomics uses the latest sequencing technology to analyse the genetic make-up of different strains of rust pathogens collected from all over the world. By comparing new samples with a genetic database of 400 strains of pathogen, it is possible to rapidly identify the race present." 
Dr Sarah Holdgate is Manager of the UK Cereal Pathogen and Virulence Survey (UKCPVS), funded by AHDB Cereals & Oilseeds and APHA, at NIAB. This service monitors cereal rusts and mildew in the UK, detecting and warning growers of new races of disease that are emerging on resistant varieties.
Dr Holdgate says: "The underlying genetics of a sample can give a more detailed picture of the pathogen population in the UK. For example two samples of rust collected from different places may look the same in our growth room tests, however, using genetic data from Field Pathogenomics it is now possible to highlight whether the two isolates are from the same race or are genetically unrelated."
Dr Saunders says: "If a farmer is alerted to the type of pathogen present in their area, or is warned about an imminent threat of a new strain moving into the UK, they can make smart predictions about which crop varieties to grow that will be resistant."
This is where the AHDB Recommended Lists are invaluable. These lists provide growers with independent information on varietal resistance and provide farmers with up-to-date information to help them make informed decisions on variety choice.
Dr Jenna Watts, Research and Knowledge Transfer Manager at AHDB Cereals & Oilseeds, says: "The Recommended Lists can be used by growers as part of an integrated disease management plan. For example, fungicide spraying can be prioritised using information provided by disease ratings."
However, it is important that all crops are monitored for disease, even those with a high disease rating, as disease populations can rapidly change to overcome varietal resistances. For this reason additional regular monitoring of disease development at some RL untreated trials will start later this month and results will be made available on the AHDB Cereals & Oilseeds website.
Dr Watts and Dr Holdgate are encouraging everyone to report outbreaks, especially on varieties with high disease ratings, and submit infected samples for testing to the UKCPVS as soon as they are detected.
Dr Holdgate says: "The best way for the UKCPVS to identify the underlying races is to sample directly from the outbreak, so it is essential that samples are taken as soon as something strange is observed on the field."
Dr Saunders believes that researchers are getting better at disease prediction. She says: "It's a constant challenge, but the development of field pathogenomics gives us a much better understanding of the type of pathogen we are dealing with."
Dr Belinda Clarke, Director of Agri-Tech East, says that improved understanding of the genetics of rusts, their lifecycle and mode of distribution creates new opportunities to tackle these diseases.
"More data about the races of rust will allow the creation of better models for disease prediction and prevention; it also opens the opportunity for other methods of control beyond new fungicides."
Dr Brande Wulff, Project Leader in Crop Genetics at the John Innes Centre, will join the other speakers at the event "Rusts and Other Cereal Killers", which takes place at NIAB, Histon, Cambs, CB24 9NZ on 12 April 2016.
For more information see the Agri-Tech East website: www.agritech-east.co.uk
Photograph shows Yellow Rust spores on the surface of a wheat leaf, with the sequencing slide used to introduce samples to the high-throughput genetic sequencer. (Credit: Andy Davis, John Innes Centre)
About Field Pathogenomics
Field Pathogenomics is a field-based diagnostic tool created by scientists at the John Innes Centre and The Genome Analysis Centre in collaboration with scientists at the National Institute of Agricultural Botany. The tool quickly identifies the genetics of a disease enabling growers and breeders to make timely decisions about which varieties to sow and to develop.
An important element of the Field Pathogenomics approach are the yellow rust samples provided by collaborators from all over the world. The diagnostic tool analyses the genetics of a given strain of yellow rust found on a crop in the UK. Scientists are then able to compare this to samples received from across the globe. Identifying genetic matches helps to track the spread of different strains of pathogen from country to country, giving farmers and growers crucial advance information about the strain and time to decide how to respond.
_____________________________________
To read more information, click
here.
Agri-TechE is a business focused membership organisation, supporting the growth of a world-leading network of innovative farmers, producers, scientists, technologists and entrepreneurs who share a vision of increasing the productivity, profitability and sustainability of agriculture.
Together we aim to help turn challenges into business opportunities and facilitate mutually beneficial collaboration.