GeoSpock captures space and time to deliver database for IoT
---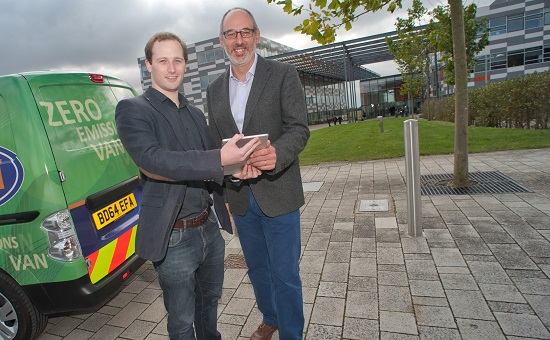 Specialist geospatial database technology secures £3.5m Series A funding.
Vans are the workhorse of our economy – clocking up 41.4 billion miles a year – improving driving and the scheduling of journeys would reduce congestion and accidents on our highstreets and cut fuel use. This is among the geospatial applications to be facilitated by radically different type of database developed by Cambridge start-up GeoSpock. It uses knowledge of how our brains store, manage and retrieve information to offer a database capable of supporting the growing Internet of Things (IoT). It has secured £3.5M Series A funding* to bring its first product to market and has appointed Victor Christou of Cambridge Innovation Capital as a non-exec director. 
Increasingly live geospatial data and telematics are being used alongside customer data to improve fleet management. However the volume and speed of data movement required to support these applications is outstripping the capability of existing database technologies. GeoSpock is specifically designed for the storage, search and retrieval of geospatial data in real-time no matter how big it gets or how often it changes.
Steve Marsh, GeoSpock's CEO explains: "Big data is slow data unless it is managed correctly.  A new generation of applications use time and place to deliver a customer service. By combining this dynamic data with historical information in real-time, companies are in a position to predict demand, manage services geographically and optimise their resources. 
"However the current database technology used widely by enterprise, is not designed to support these applications. Limited storage and processing ability means valuable information has a short lifetime before it is replaced by new data."
Victor Christou of Cambridge Innovation Capital (CIC) one of the investors comments that GeoSpock has a disruptive technology that has already attracted a number of brand leaders as customers.
He says: "Big data creates a number of challenges 'how do you handle rapidly changing data, particularly from mobile devices', 'how can you scale the system and meet peaks in demand', and 'how can you maintain a responsive service to customers'. 
"GeoSpock's has developed a very efficient multi-dimensional database that addresses these challenges. It features simultaneous data read and write to increase throughput, and solves the 'heat map' problem of large amounts of transient, nearby data brilliantly. 
"GeoSpock has a world beating technology and we are keen that the company is able to stay and grow in Cambridge, for this reason CIC has joined the Series A investment round and looks to support the company for the long-term."
Cambridge has led the development of computer technology from Babbage's programmable computer and the Turing Machine through to the latest in mobile computing and search technology, however these advances rarely become sizeable companies.   
Darrin M Disley, GeoSpock Chairman, co-founder and parallel entrepreneur, says that the investment syndicate – which also includes Dr Jonathan Milner, Parkwalk Funds, and Sir Michael Marshall – offers more than just finance to the company. 
He says: "Cambridge has developed a unique ecosystem for supporting technology companies and the syndicate offers considerable business and industrial experience to complement the academic excellence of our development team. 
"I am excited to welcome Victor Christou of CIC and Stephen Churchhouse (representing Parkwalk Funds), Director of Corporate Planning for Rolls Royce, as non-executive directors to support GeoSpock achieve its vision of becoming the go-to-search solution for complex big data." 
*The Series A investment round of £3,500,000 has been led by serial UK entrepreneurs Dr Darrin Disley, CEO of personalised medicine firm Horizon Discovery Group plc (AIM: HZD); Dr Jonathan Milner, Deputy Chairman and founder of AbCam plc (AIM: ABC); Cambridge Innovation Capital and Parkwalk Funds.  Sir Michael Marshall, Executive Chairman of Marshall of Cambridge and Mr Richard Youngman, Partner at Anvil Partners complete the investment syndicate.
Image: Steve Marsh (left), Geospock CEO and co-founder, with Victor Christou (right), CEO of Cambridge Innovation Capital.
______________________________________________
To read more information, click
here.
GeoSpock brings sensor data to life – translating complex connections into meaningful visualisations that reveal the bigger picture.