Getting the candidate experience right
---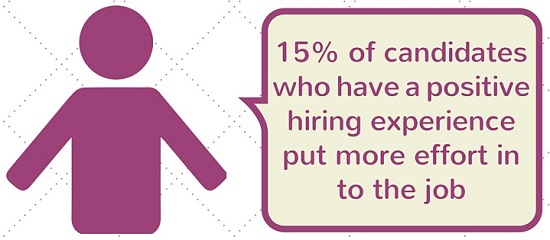 Latest industry statistics show that the experience potential employees are receiving from employers remains statistically average.
Aspire Cambridge writes:
The industry report highlighted that even though a large amount of resources are being invested by recruitment agencies and hiring employers in improving the candidate experience; overall candidate experience remains statistically average across the industry, with 48% of candidates saying they had a poor experience seeking a new role. Other negative factors mentioned by candidates in the survey included lack of communication and a lack of individual treatment.
Recent data from the Corporate Executive Board (CEB) stats that 15% of candidates who have a positive hiring experience put in more effort in the job, with 38% of candidates more likely to stay with the employer. An incredible 83% of candidates share their poor experiences with friends and family, with 64% taking to social media to voice their discontent.
How Aspire Cambridge works to improve the candidate experience
We focus on making the recruitment journey for the candidate unambiguous from the start. The Aspire Cambridge website is easy to use and our job descriptions and application processes are detailed and presented clearly. Our recruiters always highlight and explain the process to the candidate, either in person or over the phone, to ensure that the candidate understands the hiring experience. Through making the candidate fully aware of the processes, they can understand the level of service and communication that they can expect to receive – both from ourselves and the employer.
By listening to candidates and hiring managers, we regularly review our processes to improve the overall candidate experience. In the majority of hiring processes, we receive positive, complimentary feedback from our candidates and clients.
_____________________________________________
To read more information, click
here.
Your First Choice for Recruitment and HR in Cambridge, Kettering and Milton Keynes.
Aspire Cambridge - Kettering - Milton Keynes