Got a great idea that will help build a resource-efficient future?
---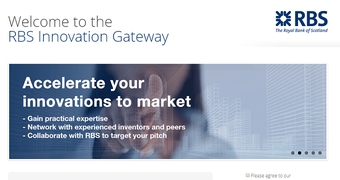 RBS has launched an exciting new programme - the RBS Innovation Gateway.
Tom Idle of  2degrees writes:
Let me explain.  The Royal Bank of Scotland is trying to push beyond the existing boundaries when it comes to technologies and solutions that will help it become a more resource-efficient business.
It is estimated that current technologies and solutions on the market will only get organisations to 25% of our journey towards ultimate resource efficiency.
RBS is working with 2degrees to support innovators and SMEs to target what they are calling the 'Next 75%' in resource efficiency, with the bank acting as a bit of a guinea pig in testing new ideas first across its 2,500 UK properties.
The RBS Innovation Gateway helps innovators to find the solutions, technologies, widgets and gizmos that will achieve this 'Next 75%'.
How will it work?
If you're an SME, an innovator or inventor with a great idea for improving resource efficiency, this is the opportunity you've been waiting for.
By joining the Gateway – with conceptual, garage-tested or market-ready solutions on water, waste or energy – you could have the opportunity to road-test your winning ideas on one of the bank's 2,500 buildings in the UK, and potentially rollout your product across their properties.
Of course, you'll also get to reduce the impact of the RBS estate too.
As the bank's Deputy CEO, Chris Sullivan explains: "Our aim and aspiration through the Gateway is to unlock new innovation in the SME community that contributes towards a more resource efficient future."
So, if you think you have a great idea, concept or solution – regardless of what stage of commercialisation you have got to – this could be the opportunity you've been waiting for.
Get started today
Interested? Intrigued? Enticed? Well, click here to get started. Then, all of the details you need – including a' 3-step guide to getting started' – will be ready and waiting for you once you've joined the Gateway.
And good luck.
To see all responses and get full access to 2degrees, Join Now.
_______________________________________________
To read more information, click
here.
The Royal Bank of Scotland is a major financial services group providing a range of retail and corporate banking, financial markets, consumer finance, insurance, and wealth management services. Locally RBS has a strong presence in the technology sector.
Royal Bank of Scotland (Future Williams & Glyn team)