Meeting marks closer government co-operation on regional Industrial Strategy
---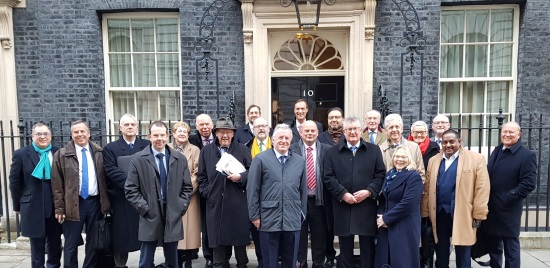 Downing Street meeting marks closer government co-operation on Cambridgeshire and Peterborough Industrial Strategy.
Newly appointed TWI Chief Executive, Aamir Khalid, Chair of the Cambridgeshire and Peterborough Combined Authority Business Board, joined leaders from across the country for a meeting at Number 10 to discuss the development of Local Industrial Strategies – blueprints for driving long-term productivity and prosperity – which will see LEPs work closely with government to unlock local growth.
Chaired by Prime Minister Theresa May, the meeting heard how LEP representatives are succeeding in bringing together the local business community, universities and other partners to design long-term plans tailored to the strengths and needs of their areas.
Mrs May told the network, "The LEPs have a vital role to play in delivering our modern industrial strategy." She continued in praising their "unique insight and expertise" in "boosting economic growth, securing jobs and delivering prosperity – making sure that no community is left behind."
Professor Khalid said, "The council meeting was an excellent opportunity to share progress on strategy with the Prime Minister, government ministers and fellow LEP leaders. Furthermore, it allowed us to demonstrate how we are working alongside central government to meet regional challenges and deliver on a clear plan to maximise the economic performance and potential across Cambridgeshire and Peterborough."
Topics also covered updates on the timelines for delivery, engagement with SMEs and rural communities, progress against the Grand Challenges identified in the Government's Industrial Strategy which aim to keep the UK at the forefront of key global trends, and discussion around the latest business intelligence from across the country ahead of the UK's departure from the EU.
The LEP Network is a gateway of news and information that enables LEPs to come together on areas of shared importance, engage with government, facilitate dialogue with economic development stakeholders and share knowledge and best practice. Professor Khalid was elected Chair of the Cambridgeshire and Peterborough Business Board in September 2018.
For more information: https://lnkd.in/ggKcDnp           
To read more information, click
here.
TWI is a world leading research and technology organisation with a focus on materials, engineering and manufacturing.