IWF breaks record for actioning reports in a single day
---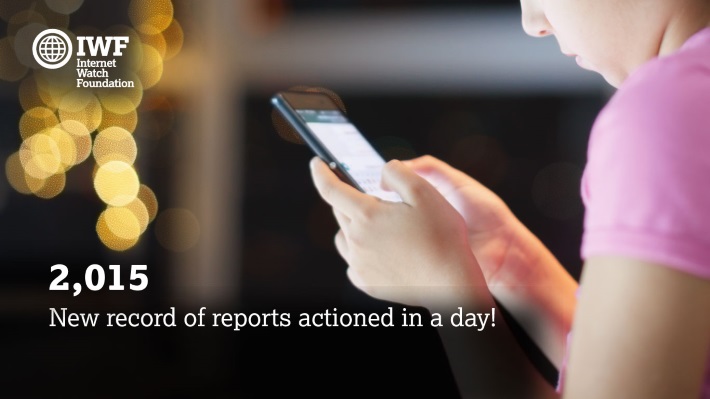 Cambs charity working with online child sexual abuse imagery records 'phenomenal achievement'
The latest figures to be announced by the Internet Watch Foundation (IWF) have reported a record-breaking day, in which their world class Analysts confirmed 2,015 reports of online child sexual abuse imagery in a single day. The reports were fully assessed, confirmed and marked for takedown.
The number of reports being processed daily by the 13-strong Hotline team has seen a steady rise as a direct result of the IWF's unique role in proactively searching the web for illegal images of child sexual abuse. Each report is appraised against strict legal guidelines by the IWF's highly trained analysts, whose assessments are trusted and acted upon by the police and internet industry players across the globe.
On the same day - November 14  - last year, the number of reports actioned was 353. This year's figure of 2,015 is an increase of 470%.
The breakthrough daily figure represents a new high.  Where images and videos were assessed as containing child sexual abuse, the analysts traced the country where the hosting server was located and triggered the process of blocking and removing the disturbing images from all over the world.
Of the 2,015 actioned reports, the highest proportion was assessed in the 11-13 years age bracket with 1,535 reports, while 46 reports were assessed as 3-6 years and four reports were marked as aged 0-2 years.
Over one thousand of the actioned reports involved images from the most serious legal classifications, which involved the rape or sexual torture of children. There were 531 Category A reports and 493 Category B reports.
Susie Hargreaves OBE, IWF CEO said: "Huge congratulations to our Hotline team for their proactive work over recent weeks. 2,015 reports actioned in one day is a phenomenal achievement in the IWF's fight to eliminate online images of child sexual abuse.  The balance of technology and specialist knowledge brought to bear by our analysts is key to their success in finding and taking down online CSA images.
"It's also vital that members of the public who stumble across images of child sexual abuse on the internet reported them to our Hotline, because reports can lead to the rescue of a victim. The IWF exists to protect the children of this digital age and we know that every time an image or video of child sexual abuse is viewed, the victim suffers repeat victimisation, so actioning reports without delay is vital. The sooner it's done, the sooner we can get the pictures down."
To read more information, click
here.
IWF is an international charity working to make the internet a safer place by minimising the availability of online child sexual abuse videos and images.
IWF (Internet Watch Foundation)