Leader in Russian metallurgy and mining market standardises on AVEVA for 3D design
---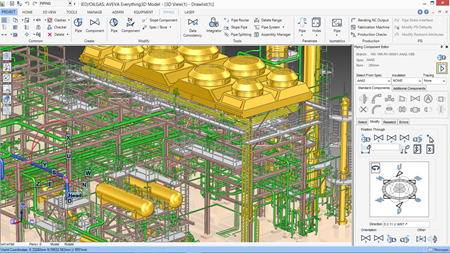 A leading Russian design institute has adopted AVEVA Everything3D and AVEVA Bocad software.
AVEVA announced today that LLC «City institution for designing metallurgical plants» (MOSGIPROMEZ LLC), a leading design institute in the Russian iron & steel industry, has implemented AVEVA Everything3D™(AVEVA E3D™) and AVEVA Bocad™ software.  MOSGIPROMEZ LLC recently determined that the functionality of its previous 2D software could not meet its rise in project demand or the increase in design complexity. 
MOSGIPROMEZ LLC needed a solution that could offer tight integration between plant design and structural steel detailing in order to increase efficiency and improve its business process. AVEVA E3D and AVEVA Bocad met all of these requirements and offered an easy-to-use interface that enabled a quick implementation. MOSGIPROMEZ LLC's implementation of this new approach to work and adoption of new technologies is a long-term investment, and will result in maximum efficiency and collaboration.
'AVEVA gave MOSGIPROMEZ LLC a solution to gain higher levels of design efficiency for bigger scale projects that demand much greater complexity', said Galina Yaskina, Managing Director, MOSGIPROMEZ LLC. 'Explaining its Digital Asset approach to us, AVEVA demonstrated how its software can address these challenges. We hope to see in AVEVA a reliable and trustworthy partner. I visited the AVEVA World Summit in Berlin in 2014 and was very impressed by the number of customers participating. AVEVA has a very strong approach to customer relations.'  
Mrs Yaskina identified MOSGIPROMEZ LLC's most impressive gains have been realised in the following areas:
Automatic drawings delivery.
Clashes are identified at the project stage. This helps to improve the quality of documentation and reduce project timescales, especially when changes occur.
Collaboration between design and construction stages.
Effective engineering monitoring on construction site.
'The MOSGIPROMEZ LLC implementation demonstrates the versatility of our Integrated Engineering & Design solutions across a range of markets,' said Evgeny Fedotov, Senior Vice President- Global Head of EPC Sales. 'MOSGIPROMEZ LLC will benefit from increased competitiveness through significant efficiency gains and improved visibility across all of its projects. Its switch to 3D for both plant design and structural steel detailing will provide accurate automated drawing production. After sales support is important in all of our customer engagements and MOSGIPROMEZ LLC was no different. We worked very closely with them to develop a clear deployment plan, offering technical demonstrations and product testing throughout the process.  We are very pleased to add MOSGIPROMEZ LLC to our growing list of Russian customers.'
____________________________________
To read more information, click
here.
AVEVA is a global leader in engineering and industrial software driving digital transformation across the entire asset and operational life cycle of capital-intensive industries.