Sable&Hawkes delivers new responsive website for leading national college
---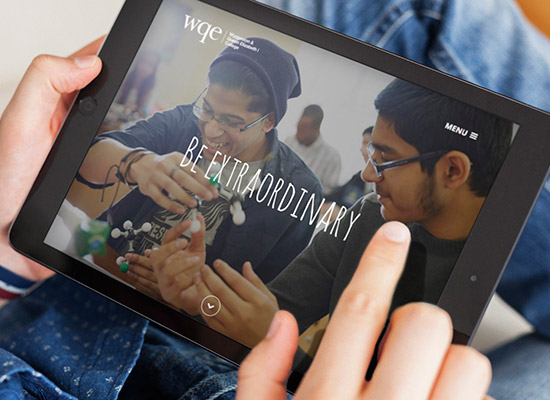 Cambridge-based design communication agency Sable&Hawkes has delivered a new website for prominent national sixth-form Wyggeston and Queen Elizabeth 1 College.
Add This Share Buttons
This is the new site:
www.wqeic.ac.uk
The website project was the culmination of a two-year project which  delivered 
brand, positioning and stakeholder audit
strategic marketing planning
brand, positioning and identity development
print, web and advertising
art direction
creative copywriting and full editorial support
Helen Devine, Admissions Manager at WQE said of the project: "It was pleasure working with Sable&Hawkes on the design of our new College website. From the beginning of the project we had a clear plan of what needed to be done to ensure that we met our deadline for going live. The initial meetings with Adrian and Ben were very helpful to go through the visual designs and how the site would work; our comments were listened to and any changes we requested were very quickly made. 
"Sable&Hawkes helped with populating the majority of the content on the site which was much appreciated and really saved us lots of time. The relationship with Maltpress was very well managed and communication between all parties was excellent throughout. 
"Now the website is up and running we are really pleased with how it looks and we have had lots of positive feedback. The best thing about the site for me is how easy it is to update – we have full control of all elements which means that we can quickly make any changes to menus, add news, new courses, new pages etc. That said, it is reassuring to know that if we need any support it's just a phone call away!"
The creative solution
Adrian Kimpton of Sable&Hawkes said: "Our solution to what the college could offer the world, our positioning strategy, boiled down to the old grammar school ethos of placing 'no limit on achievement' into the central idea that anybody can ... 'Be extraordinary'. It is a message  to 'everybody' which makes it inherently inclusive, a message full of opportunity and self-esteem, of a college providing an environment for students to achieve more than they ever thought possible. 
"Visually, like many other colleges WQE struggled to convey the essence of their 'everyday' .To counter this we deliberately took a bold approach, utilising a year's worth of art direction and on-site photography, designed to better project their vibrant, diverse (culturally, socially, economically) and progressive culture. 
 "We were delighted, again, with Maltpress Development (www.maltpress.co.uk) who handled the technical side of the project."
Owner Adam Maltpress said of the project:  "We took a mobile-first approach to the front-end build, making it a nice efficient set of code and a site which works well across devices. In the back-end there's a custom page builder allowing WQE to easily update the home page of the site with relevant, timely information.
"There's also an application form which allows users to save their progress and return with a one-time-use login code and link, meaning there are no user accounts - and the security issues these bring - but people still get the benefits of returning to long forms to complete them at a later date. All in all, a nice build, fun to do, and a great client to work for!"
--------------------
About Sable&Hawkes
Sable&Hawkes are a design communications company. Our studio combines strategy, design and editorial to deliver simple, elegant and thoughtful creative solutions.
We work with our clients to deliver:


Thinking/Naming, brand positioning, competitor and communications audits, stakeholder interviews, tone of voice, creative copy writing and ongoing brand management.

+

Doing/
Brand identity, copy writing, digital media, corporate and marketing literature, direct mail, advertising, exhibitions and campaigns.
For further information contact Adrian on:

T: 01223 303708

M: 07712 270198

E: adrian@sableandhawkes.co.uk

W: www.sableandhawkes.co.uk

TW: @SableandHawkes
Studio:
21 Aylestone Road Cambridge CB4 1HF. 
_______________________________________
Sable&Hawkes are a graphic design company based in Cambridge. We deliver brand positioning, visual identity solutions, creative direction and corporate and promotional design in print and online.