Scrutton Bland announces 15 strong partnership
---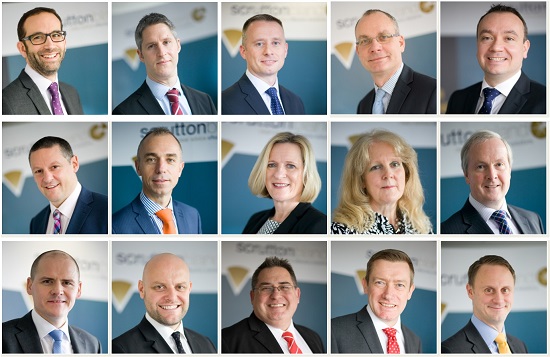 Scrutton Bland announces expansion to its Partnership Team and new LLP status.
Add This Share Buttons
One of the region's leading financial service providers has today announced the appointment of five new Partners to support ambitious plans for growth.

LLP
In April, Scrutton Bland will enter a new stage in its development as the financial services firm becomes a Limited Liability Partnership (LLP). The move will allow the Partnership team at Scrutton Bland to make operational decisions with more agility; and enable the management team to appoint new Members with greater ease, attracting new talent into the firm and providing greater opportunities for existing staff.

Having undergone a number of positive changes in recent years with the expansion of the Ipswich office into the Crown Street building, the relocation of the Colchester office to a purpose built site at Severalls Business Park, office expansion in Diss and more recently, the opening of a new office in Cambridge, Scrutton Bland continues to go from strength to strength.

New Partners
In addition to Partner James Bolton, who joined the business at the end of 2016, tasked with developing a specialist Employee Rewards and Benefits service, from 1 April Scrutton Bland will see a further five Partners joining the management team.

Luke Morris joins Scrutton Bland from Larking Gowen as a Corporate Partner, bringing with him a wealth of experience in all areas of corporate finance. Luke's appointment will support the firm in its drive to develop its Corporate Finance offering and grow the already successful advisory arm of the firm in supporting business owners, be they looking to acquire, grow or exit their businesses.
Gavin Birchall joins the Partnership from the Scrutton Bland Tax team alongside Graham Doubtfire. Gavin, is a tax lawyer with a particular specialism in transactional and property tax which will enable the firm to grow its tax advisory service. Graham is a highly experienced tax specialist and his appointment to Partner underpins the firm's commitment to develop its tax services to business owners, individuals and families.

Dan Bligh takes the role of Partner working alongside senior Partner Tim Mulley in strengthening the Partnerships insurance expertise. Dan has worked at Scrutton Bland for 13 years building up a robust client base and managing an expanding insurance team.
Completing the Partnership team is Grant Buchanan who takes up the position of Financial Planning Partner. A Chartered Independent Financial Adviser, Grant represents an increasingly important focus for the firm for providing intelligent and tailored financial advice to individual and business clients throughout East Anglia and into London.

The expansion of the Partner team reflects the exponential growth of the firm, its services and employee numbers as Scrutton Bland continues to build its reputation as one of the region's leading financial services advisers.

Managing Partner
The now 15 strong Partnership team will be headed by Jason Fayers, Tax Partner who takes up the mantle of Managing Partner from Tim O'Connor as he comes to the end of his tenure after four years. Jason has been a Tax Partner at the firm since 2003 and will assume his new role on 1 April spearheading the business as it continues to develop new value propositions for clients and expands geographically throughout the region.

"The future is looking bright for Scrutton Bland, as we enter a period of inevitable change with the impending HMRC requirement for Making Tax Digital and the challenges that Brexit will undoubtedly bring. We are in a robust position to support our clients and have exciting plans for future growth." Jason Fayers, incoming Managing Partner.

Image:  From top left to bottom right: Nick Banks (Business Advisory Partner) Gavin Birchall (Tax Partner) Dan Bligh (Insurance Partner) James Bolton (Employee Benefits Partner) Grant Buchanan (Financial Planning Partner) Graham Doubtfire (Tax Partner) Jason Fayers (Tax Partner) Sharon Gravener (Corporate Services Partner) Sue Gull (Corporate Services Partner) Tim Long (Financial Planning Partner) Luke Morris (Corporate Services Partner) Tim Mulley (Insurance Partner) Tim O'Connor (Corporate Services Partner) Simon Pinion (Business Advisory Partner) James Tucker (Business Advisory Partner)
 *******
For more information on Scrutton Bland contact:
Erica Gilson
Marketing & Business Development Director
t: 01206 838400
e: erica.gilson@scruttonbland.co.uk
The Scrutton Bland Group (Scrutton Bland) includes Scrutton Bland Limited and is a provider of insurance broking, accountancy, tax, employees benefits and Chartered Independent Financial Advice. From offices in Colchester, Ipswich, Cambridge and Diss, Scrutton Bland serve a range of clients from small owner managed businesses to large corporate organisations and offers professional advice on personal investments through to work place pensions. From 01.04.17 Scrutton Bland Limited will be renamed Scrutton Bland Financial Services Limited.
________________________________________________
Scrutton Bland is a leading provider of financial services offering accountancy, audit, tax, insurance and independent financial advice to both commercial and private clients.