Strawberries and Screen returns to the CB1 area in July
---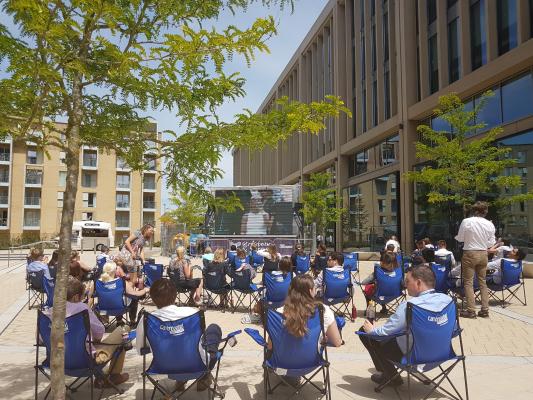 The sights and sounds of Wimbledon will once again provide a feel-good factor for the CB1 area this July. 
Cambridge Business Improvement District (BID) will be setting up a giant LED screen between One Station Square and The Tamburlaine hotel so that all tennis matches televised by the BBC can be broadcast live, between 1 and 14 July.
The 4,500 employees and residents in the CB1 area are invited to experience the 'pock' of tennis ball against racquet, the grunts of the players and the cheers of the crowd – and all for free. Cambridge BID will supply 100 chairs on a first-come-first served basis, and viewers are welcome either to bring their own refreshments or to purchase from the food vans and ice cream sellers that will be available, mainly at lunchtimes.
"We want to foster a sense of community in this rapidly changing part of the city by enabling people to take time out to relax in the sun over lunch, or in the early evening after work," comments Becky Burrell, Marketing and Commercial Manager at Cambridge BID.
"We recognise that employers choose to come to Cambridge not just for the talent pool but because the city is a special and unique place in which to live and work. We're here to enhance the experience of employees and residents alike – and what better way to do that than by televising the thrills and spills of Wimbledon."
Adds Sven Topel, Chief Executive at Brookgate: "The Wimbledon big screen was immensely popular last year and we look forward to it returning this summer. It's great to see those who live, work and visit CB1 out enjoying the tournament and making the most of what the CB1 Estate has to offer."
For more information visit www.cambridgebid.co.uk/wimbledon
Cambridge Business Improvement District (BID) consists of 1,200 city centre businesses, working together to promote the city to visitors, residents and workers, while ensuring they experience a welcoming and vibrant street scene that is both clean and safe.