Top British retailer sets up shop at CUH Addenbrooke's
---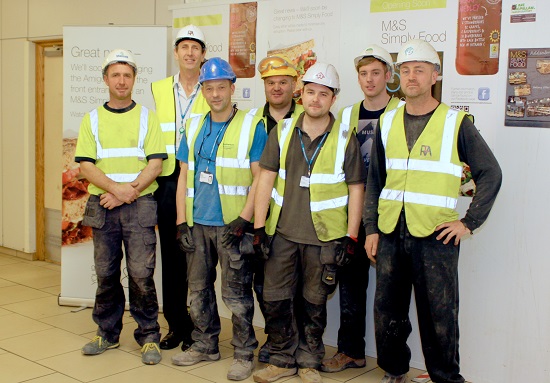 Work has begun on building a new M&S Simply Food store at Addenbrooke's hospital in Cambridge.
The store will replace the old 'Amigo' convenience store in the main concourse and will sell a range of food and drinks, including healthy options, to patients, visitors and staff.

Hospital Chief Executive, Dr Keith McNeil was there to kick off the building work yesterday (Thursday).  He  said "This new store will add to the range of healthy food choices we can offer visitors, staff and patients and will also encourage healthy eating. Healthy options lead to healthy eating, which leads to healthy lives."

Denis Hogan is the Managing Director of Compass Group, which is co-ordinating the project. He said "We currently operate over 150 retail outlets in hospitals throughout the UK. Addenbrooke's Hospital is a great example of our branded offer; we operate Starbucks and Costa there and are about to open M&S Simply Food as well."

Work will include expanding the old premises and installing specialist chilling equipment. The project is expected to take six weeks to complete and will create around 50 new jobs for local people. 

A grand opening will take place on March 6th when the Hospital Chair, Jane Ramsey, will cut the ribbon.
*******

For more details please contact: louise.gosling@addenbrookes.nhs.uk
___________________________________________
Cambridge University Hospitals is one of the largest and best known trusts in the country. As the local hospital for our community we deliver care through Addenbrooke's and the Rosie hospitals.
Cambridge University Hospitals NHS Foundation Trust