US2U Consulting enables mill money to maximise growth for metals testing firm ASAMS Ltd
---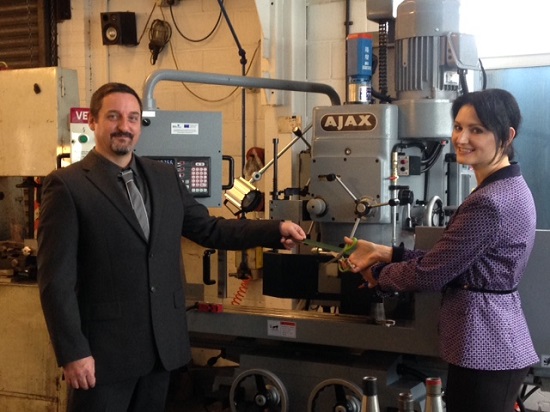 US2U Consulting has been working with its client ASAMS Ltd to secure New Anglia LEP funding.
US2U Consulting is pleased that as part of its business development services, it has been able to work with its client, ASAMS Ltd, to help them secure £12,500 from the New Anglia Local Enterprise Partnership Small Grant Scheme.
The team says: "We introduced Directors Andrew Page and Thomas Whiskin to New Anglia LEP at the Southern North Sea 2017 Conference and Exhibition run by EEEGR.
"This funding has helped the firm to invest a further £42,000 in a new milling machine which will improve efficiency and enable strategic expansion into the automotive and aerospace industries."
Image: Andrew Page, Director at ASAMS Ltd, with Nataliya Klymko, Growth Programme Coordinator from the New Anglia LEP, at the ribbon cutting ceremony US2U organised.
Please contact us to find out how US2U Consulting can work with you on your 2018 business strategy.
To read more information, click
here.
US2U Consulting is a forward thinking Management Consultancy offering key solutions which make for better business practice and management in any organisation. Our successful growth has been built on the ability of our Consultants to achieve results, and the reputation this has created with our clients.