Use road improvement billions to build greener highways
---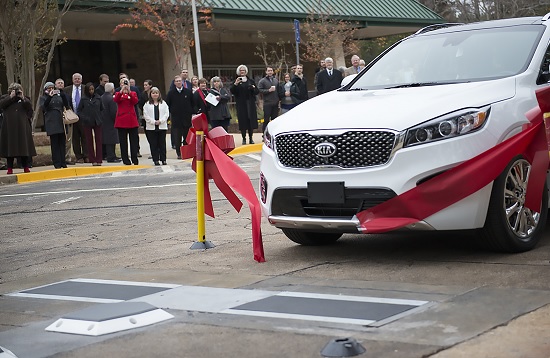 Technologies recommended by Cambridge-based Innovia Technology have been piloted on The Ray green highway in Georgia, USA.
Add This Share Buttons
Five million gallons of fuel are wasted every day in the US due to low tire pressure. Motorists on The Ray – the world's first green highway – will soon be able to check tire pressure and tread depth for free. The first public installation of WheelRight, an innovative 'drive-over' tire safety system, is part of a suite of sustainable technologies recommended by Innovia Technology to support the vision of a zero-impact highway.
Harriet Langford, President of The Ray, says: "We are looking at big ideas, radical innovations and simple smart choices that can create safer and cleaner transportation in the US and the world."
Incorrectly inflated tires can lead to skidding, hydroplaning, increased stopping distances, flat tires and blowouts. The WheelRight system offers drive-over monitoring of tire pressure, tread depth, and axle weight. It gives the driver information about a number of safety issues that can be rectified by simply adjusting the tire pressure.
British technology WheelRight is just one of the technologies identified by Innovia Technology to be trialled on The Ray. This 18-mile stretch of the I-85 highway in Georgia has been converted into a 'living laboratory' in honor of the late Ray C Anderson, a visionary who pioneered sustainability practices at his flooring company, Interface Inc.
It is a year since the US signed the $305 billion "Fixing America's Surface Transportation (FAST) Act*" which aims to improve highway infrastructure (£2.6 billion has been allocated by the UK in the autumn statement). The Ray aims to show how greater economic, environmental and social value can be achieved from the eight million lane-miles of public roadways under the supervision of state DOTs. It asked Innovia Technology to evaluate emerging technologies from across the world and recommend those with the most valuable impact.
The Ray needs to be sustainable, and Allie Kelly, Executive Director of The Ray, comments: "Innovia Technology has the ability to assess emerging technologies and then read between the lines to see where commercial value can be created. This has allowed us to implement schemes that are of interest to our partners and have potential to be rolled out on a large scale."
Alastair MacGregor, CEO of Innovia Technology, explains that The Ray presents an opportunity to rethink the purpose and function of physical infrastructure.
"We presented to The Ray two alternative visions for a 'travel corridor' of the future to stimulate debate about what we want from our investment in physical infrastructure. A frugal option would have fully autonomous electric vehicles with low-tech roads. Whereas, the high-tech highway would have embedded smart technology and a mix of autonomous vehicles, older retrofit vehicles and human-driven cars. Both options offer environmental and societal benefits.
"To achieve the vision, we have set out a technology roadmap for implementation and we are delighted that The Ray is making such exciting progress, creating a test-bed that will raise aspirations and support wider adoption of alternative approaches."
Innovia Technology's roadmap for The Ray included measures that could be implemented immediately. The Ray has acted upon these and will be installing over the coming months:
The use of 'right of way' land for decentralised renewable energy production: An electric vehicle charging station at the Visitor Information Center in West Point. Funded by Kia Motors Manufacturing Georgia, the 3000 kW solar array will provide renewable electricity for a range of applications, including a charging station able to charge two electric vehicles to over 80% in less than 45 minutes.
Solar roads: The falling cost of the technology has made large-scale implementation of solar roads feasible and The Ray will pilot the first installation of the Colas Wattway solar road outside of France. Wattway is a system of solar panels installed on the road's surface that is not only safe and durable, but also generates energy from the sun when not obscured by cars or trucks.
Introduction of 10 acres of 'bioswales' that use grasses to mitigate flash floods: The construction of bioswales – shallow drainage ditches filled with native plant species or compost to collect water during rainstorms – will trap pollutants such as heavy metals, rubber and oil. The bioswales will additionally slow water run-off during heavy rain, limiting flooding. Ecoplanting will also encourage pollinators essential for many food crops.
Allie Kelly comments: "We wouldn't be where we are today without Innovia Technology. Ideas that were just concepts a few months ago are becoming reality. Our supporters and sponsors are seeing a better future taking shape before their eyes, creating energy and enthusiasm, and this is really inspiring."
*More background about FAST road building programme http://www.artba.org/about/faq/
For more information about The Ray visit www.TheRay.org
____________________________________________________________
To read more information, click
here.
Making Breakthrough Innovation Happen