World's largest linear friction welded component optimised for use in commercial aviation
---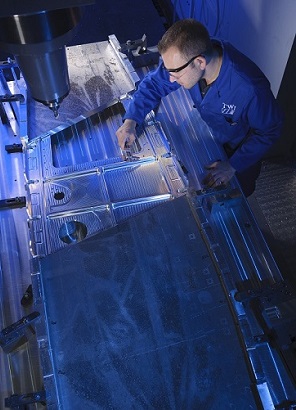 TWI has recently showcased the world's largest Linear Friction Welded (LFW) component – an aluminium wing rib for commercial aircraft.
Comprising 22 rib feet joined to a 2.5 metre long baseplate, the wing rib is designed to strengthen an aircraft's wings, and TWI's use of LFW has opened up a new manufacturing route for these components. The LFW process also opens up potential for improved part performance and reduced production costs for the aviation industry.
A prototype was originally developed by TWI as part of the 'STeM' programme funded by Innovate UK and GKN Aerospace and the wing rib first exhibited at the Farnborough air show in 2015. However, the innovative new design was more recently shown, in a part-machined condition, at the National Engineering and Construction Recruitment (NECR) exhibition at the NEC in Birmingham IN November 2017.
The wing rib is made from aluminium AA7050 and is pre-formed to a near net shape, which greatly reduces material wastage and thereby machining time and costs. With 70% less material wastage and a 43% reduction in machining time, the selective material placement greatly reduces 'buy-to-fly' ratios while enhancing performance.
Furthermore, the grain orientation of the rib feet can be tailored for directional strengthening, which may allow for further reductions in local thicknesses.
The performance of each wing rib has a direct impact on the operation of the wing and thereby influences the efficiency of the airframe as a whole.
Using this new LFW manufacturing approach offers a real potential for improved part performance and reduced production costs, while the local selection and tailoring of alloys and material textures allows for further optimisation and cost saving.
You can find out more about TWI's Linear Friction Welding capabilities here.
For more information, please contact us.
TWI is a world leading research and technology organisation with a focus on materials, engineering and manufacturing.