Strem launches new catalogue (2012-2014)
---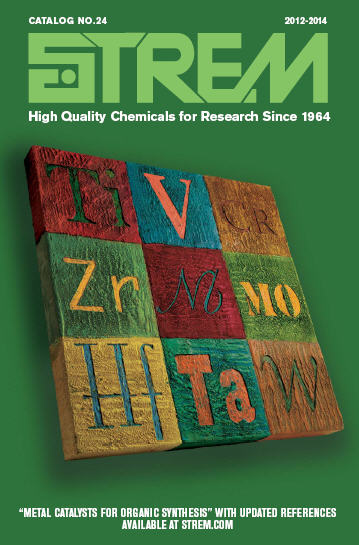 If you would like a free copy of Strem Chemicals' new catalogue, please email enquiries@strem.co.uk and confirm your address.
Also available are the following product booklets:
MOCVD, CVD, ALD
Kits
Phosphorous Ligands and Compounds
Other Ligands
Metal Catalysts for Organic Synthesis
Heterogeneous Catalysts
Nanomaterials
_____________________________________________
To read more information, click
here.
For over twenty-five years, Strem Chemicals UK has been distributing high quality specialty chemicals, from Strem Chemicals, Inc, in the UK and Ireland. Strem products are used for research and development and commercial scale applications, especially in the pharmaceutical, microelectronics, chemicals and petrochemicals industries.