Moving office? A rough guide to IT relocation
---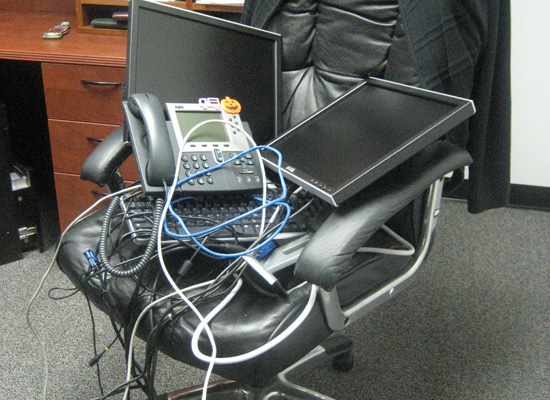 Let's be honest, moving is stressful - whether you're moving house, job or office.
In fact, an office move – even just across town – has the potential to be the most disruptive of all three. Unless, that is, you apply a little forward planning to consider the effect the change of scenery may have on the key components of your business' IT and communication systems.
Businesses can relocate all or part of their operations for any number of reasons, but it is very easy to cancel out any potential benefits by creating damaging disruption – harming customer relationships, reducing staff productivity and absorbing management resources.
Camb IT Support provides a wide range of IT support and consultancy services as well as hosted software packages to business of all shapes and sizes – up and down the country. Its clients range from well known Cambridge hotels to major local accountancy practices to multi-site, nationwide environmental businesses.
It has many years' experience of masterminding the 'safe passage' of IT and communication systems for office moves of all shapes and sizes. 
With that in mind, the company decided to share some of its experience by putting together a rough guide to moving your business' IT systems.
Remember all businesses and moves are different. Don't treat this checklist as definitive, rather use it as a reference to inform your planning as you work towards a hassle-free office move.
You can also download Camb IT Support 's guide to IT relocation (pdf).
ISP/Telephones
This can often be the longest and most involved process when it comes to moving office so it will need to be planned well in advance and managed carefully. Regardless of your carrier, for most SME business telecoms customers the organisation responsible for moving your services will be BT, be they ISDN or standard POTS.
Depending on whether you are able to reactivate existing lines at your new premises or you need extensive engineering works for new builds, the time it takes for BT to book in and complete your order can vary between 6 weeks – 3 months (estimates correct as of 7th December 2012). Make sure you factor this timeframe into your planning.
Once lines have been physically moved and you have had your lines logically reconnected at the new site, then the process of transferring the broadband can start. This often involves the reconfiguration of router/gateway hardware to use the new connection details. You are also likely to receive a new 'WAN IP' which will need to be noted for the further tasks of Email and Remote Service re-configuration.
The next step would then be to arrange the physical moving of your PBX (telephone system). This needs to be carried out by a qualified engineer and the time this takes and the complexity of the install in your new premises will be governed by the type of system, the number of handsets and the need for any additional wiring.
Those of you that have already taken the leap to a Hosted VoIP based telephone system the moving of your services is as straight forward as unplugging your device from the Internet connection at your existing premises and plugging into a working Internet connection at your new premises. For more information on a Hosted VoIP telephone system please email us at enquiries@cambit.co.uk or call (01223) 576705.
Infrastructure
The term infrastructure can be applied to almost anything when looking at an office environment. For the purposes of this document, we will be focussing on physical IT related infrastructure: mainly hardware and cabling.
Detailed plans should formulated for the provision of a tidy and, if possible, air conditioned 'Comms area' to terminate all data cables and provide housing for servers, switches and routers.
It is always a good idea where possible to create as detailed as possible floor plans to determine where desks will be placed and what provision is required for data, power and telephone outlets at given points around the premises.
Any existing data cabling should be thoroughly tested for continuity and adequate provision should be made for any additional cabling that has been highlighted in the floor plans. It can be tempting to just run cable around the edges of walls and between desks and under carpets but try very hard to resist that temptation. We recommend modest investment in some well thought out cable trunking runs to accommodate these cables.
A qualified electrician should be tasked with providing 'clean' power to the 'Comms area' and adequate power outlets for all other required locations determined in the floor plans.
Most telephone systems are able to use the same structured Cat5/6 cabling that is used to provide a data connection for the network. This can eliminate the need to install dedicated telephone cables separately. Check with the relevant telephone engineering professionals to make sure that your system can operate on this basis. 
Hardware relocation
This is the physical process of powering down, unplugging and boxing up your hardware for the journey to the new premises.
Depending on the number of PCs/Servers etc you have to move you may want to employ the use of a courier or similar to carry out these tasks for you. There are companies who specialise in this process.
Again this may seem obvious but it is a lot easier to unpack and place the hardware in the new premises when the desks and other office furniture has already been positioned. It can be slightly impractical but it is well worth making the effort to reverse the packing process to facilitate unpacking in this order.
Another good tip here is to get a box of labels and mark as many things with where they need to be or who they need to be with at the new premises. This can save a LOT of hassle when it comes to repatriating the tens or even hundreds of mice and keyboards that seem to have collected in the same box
Email and remote services
Depending on your email setup the complexity of email server / provision relocation will vary considerably. 
For all those of you that have hosted IMAP or Exchange based systems this process will be very straightforward and all you will need to do is plug PCs into working network points and the email should again start to flow. Emails to phones and mobile devices should not be interrupted at all throughout this process.
If your email is delivered directly to the building to an in-house email server the process is slightly more complex. As well as physically moving the email servers, powering up and ensuring network access the MX records for the point of mail delivery will need to be edited and any external SPAM/Virus filtering systems updated with your new IP addresses.
All phones and mobile devices may also need to be updated with the new settings. It is possible that you have a system that points your email delivery address to a certain IP address and your devices connect to the mail server in that way, in this case the DNS record will need to be updated to reflect this and the changes given time to propagate.
Website
Make sure the postal address on your website and any other key digital listings – such as Google Places - changed as soon as possible. It sounds obvious but this is something often missed and left until last. Depending on the nature of your business this can cause real customer satisfaction issues.
Perhaps put a note on your website or post to Twitter and Facebook to flag the office move and any effects it is likely to have on business operations. This will go a long way to allaying customers/supplier anxieties about possible disruption to service.
New office, new equipment?
The downtime caused by an office move may also provide a golden opportunity to replace those older bits of hardware that have been kept alive for critical system functions.
This is downtime that will have needed to be factored into the overall plan anyway so would now be a good time to complete these upgrades?
At the very least it would be strongly advised to replace network and power cable, clean or replace mice and keyboards and clean monitors.
*******
For further information
 If you have any questions arising from this article or would like to have a chat about your office move, please call Camb IT Support's managing director, Robert Corder on (01223) 576705 or email rob.corder@cambit.co.uk.
__________________________________________________
Founded in 2004, Camb IT Support provides a range of IT support packages to businesses of all sizes.