Marshall provides French Defence Force with further CT Scanners
---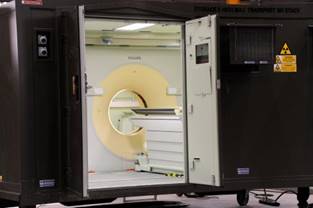 The Service de Santé Armée (SSA), the French Defence Health Service, is to receive three more ruggedized, deployable CT Scanners.
The contract placed on Marshall Aerospace and Defence Group by the NATO Support Agency (NSPA) is a follow on contract from one placed by NAMSA – the forerunner to NSPA – on behalf of the French Ministry of Defence in 2012 with the system now successfully delivered and in service.
SSA, which includes both medical and administrative staff, provides medical and environmental health support to the French Armed Forces and other organisations managed by the French Ministry of Defence.  The Service will be using the CT Scanners to support France's military operations globally.

"This is a great vote of confidence in our CT Scanner Systems by the French Government.  We are very pleased to be working with SSA again and helping them to provide such a critical service to patients wherever the units are deployed," said Steve Fitz-Gerald, Chief Executive of Marshall ADG.

"Working with Philips Healthcare, who are providing the actual scanner, the CT Scanner System demonstrates how well teams can design and integrate high quality systems for the user and bring together leading edge technology  to deliver innovative solutions which make a real difference," added Fitz-Gerald.

As the prime contractor Marshall ADG has brought together the latest Philips Healthcare CT Scanner and integrated it into a Marshall expandable shelter to provide a highly mobile solution which can be scanning the first patient within four hours of arrival at the deployed location.  Core to this ability is the design of the system which does not require certification each time it is moved as the main scanner unit (Gantry) does not move during transit.  During the design process risks were identified and mitigated to ensure that the user has a robust and reliable system. The unit is designed around a standard ISO container and can be easily moved through both military and civilian logistics system.

The CT scanner system incorporates features normally associated with fixed hospital facilities; full radiation protection inbuilt within the shelter structure, protected operator area, full air conditioning and environmental control, and UPS back up equipment to preserve vital image data.

The Philips CT Scanner is one of the most advanced CT systems in the market. This system can expand clinical boundaries in cardiac, pulmonary, trauma, and paediatric imaging.
About Marshall ADG in Medical Systems
Marshall ADG is a global provider of Medical Systems for the defence, security and other markets where rugged and durable medical systems are required to deliver the best possible patient care in arduous conditions and extreme climates. Harnessing the extensive experience of the Group alongside key specialised partners, core capabilities reside in the understanding of requirements, programme management and technical integration of complex, deployable medical systems.
Systems available include modular and scalable Medical Treatment Facilities ranging from  Role 1 solutions, providing  effective first aid, triage, resuscitation and stabilisation,  to turnkey Field Hospitals, providing theatre of operations level capability such as  primary and specialist surgery, advanced and specialist diagnostic capabilities including CT scanning and  major medical nursing specialities. Marshall ADG is also a leading provider of military stretchers and stretcher loading systems. 
The company's experience is not limited to the land environment; in the air it specialises in the integration of medical systems into aircraft where a civil or military transport aircraft can be re-rolled in less than 24hours to a fully equipped medevac aircraft to carry patients from the incident site, whether a natural disaster or a conflict zone back to a national hospital. The company has recently designed a system for the Royal Norwegian Air Force for installation on a Boeing 737 and similar systems can also be fitted to C-130s.
______________________________________
Founded in 1909, the Marshall Group has a turnover of £2.5bn and over 5,700 employees. Headquartered on a 900-acre site in Cambridge, Marshall has three principal arms to the business: Aerospace and Defence; Property; and Ventures.