Deloitte analyses top technology trends for 2015
---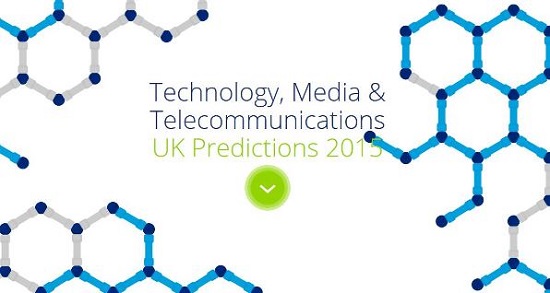 The technology, media and telecommunications (TMT) practice at Deloitte today announces its predictions for the technology sector in 2015.
Click and collect locations in Europe to grow 20 per cent to reach half a million in 2015;
Over a million commercial drones in use globally;
One billion wireless Internet of Things (IoT) devices to be shipped in 2015.
Deloitte predicts 2015 will see click and collect locations increase to over half a million sites across Europe, a 20 per cent increase on last year. Ecommerce's popularity is still increasing across Europe, with customers wanting easy access to their goods, and not having to wait for a delivery.
Julian Rae, TMT Predictions partner at Deloitte in Cambridge, comments:  "Although click and collect appears to be beneficial for retailers and customers alike, there are some challenges for the retailer.  Customers are more likely to 'buy to try', leaving unwanted goods at the click and collect location, which then need to be returned to the warehouse.  Shops must consider the additional space and staff they need to manage the extra stock."
This year's report also expects to see a steady increase in the popularity of commercial drones in use globally, reaching the one million mark for the first time. 700,000 are already in use and over 300,000 units are expected to be sold in 2015, worth between £125m-250m.
David Halstead, lead technology partner at Deloitte, adds:  "We predict a rise in the use of commercial drones in 2015 as they are used increasingly for business, as well as personal use.  Drones are already being used today to inspect the outside of off-shore wind turbines, for example. It's quicker and cheaper to send a drone up to shoot video footage, than to have someone scale up with ropes and harnesses.
"Regulators are currently working out how best to incorporate drones into existing air space. An irresponsibly piloted semi-professional two kilogram drone, whose battery expires mid-flight above a crowd, might cause injury. But a drone used for search and rescue mission could save lives."
Other predictions include:
The Internet of Things
Business will represent over 60 per cent of the one billion Internet of Things (Iot) devices brought in 2015. Business will overtake consumers' adoption of this new IT technology. IoT hardware will be worth £6.6 billion, with consumers' appetite for controlling their heating, lights and appliances. The big growth story will be the business services enabled by the devices, worth £46 billion. Examples could include insurance discounts for telematics device in a car or a wearable device for health companies.
3D printing is a revolution
Deloitte predicts that 2015 will see nearly 220,000 3D printers sold worldwide with a value of over £1 billion. Deloitte estimates about 80 per cent of the value of all 3D printers will be for companies instead of consumers, meaning the real revolution will be seen in the enterprise market.
Nanosats take off, but they don't take over
By the end of 2015 over 500 nanosatellites (nanosats, tiny satellites, under 10kg in mass) will be in orbit.  Nanosats are attractive for many different reasons, including being cheaper than conventional satellites, lighter, easier to build and test and easier to launch.  Although they are increasingly capable of more complex tasks, they are likely to be an addition to the existing large satellite market, and not replace it.
For a full copy of the report (launched on Tuesday, 13th January 2015) with all of the Deloitte predictions please visit www.deloitte.co.uk/tmtpredictions.
The 2015 series of Predictions is the 14th edition of the report and has drawn on internal and external inputs from conversations with member firm clients, contributions from Deloitte member firms' 7,000 partners and managers specialising in TMT, and discussions with industry analysts as well as interviews with leading executives from around the world.
About Deloitte
In this press release references to Deloitte are references to Deloitte LLP, which is among the country's leading professional services firms.
Deloitte LLP is the United Kingdom member firm of Deloitte Touche Tohmatsu Limited  ("DTTL"), a UK private company limited by guarantee, whose member firms are legally separate and independent entities. Please see www.deloitte.co.uk/about for a detailed description of the legal structure of DTTL and its member firms.
The information contained in this press release is correct at the time of going to press.
For more information, please visit www.deloitte.co.uk
__________________________________________________________________
To read more information, click
here.
The Deloitte Cambridge office comprises 8 Partners and over 250 staff who deliver a full range of professional services to the East Anglian region. As well as focussing on the life sciences and technology sectors for which the region has become so renowned, the office has long standing specialisms in other sectors including the professions, consumer business, food and agribusiness.