Cordic and greentomatocars collaboration bears fruit with Apple
---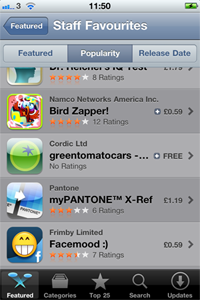 Apple staff have picked greentomatocars' private hire booking App for the App Store's "Staff Favourites" section.
The greentomatocars App by Cordic allows passengers to book a Private Hire vehicle (minicab) from greentomatocars. Using the App, passengers can:
Pay by cash, card or on account

Get a Quotation for their journey

Make a booking

Check its status

Cancel a booking

Track the vehicle on a map

Manage their previous bookings

Manage their favourite addresses

"We're delighted to see the App on the "What's Hot" list" said Jonny Goldstone, Managing Director, greentomatocars. "The elegant design and innovative functionality are absolutely in tune with greentomatocars' brand values and we believe it's the best booking App out there. Most important of all, our customers think it's brilliant too - it really does make the process of booking and finding your car as easy as possible. Next stop, the Blackberry App!"
Fara Arani, Commercial Director, Cordic commented "this is a great achievement for Green Tomato Cars and Cordic. When Cordic set out creating the App it was to enable firms to grow their business, make it easier for passengers to book and track a taxi and to improve customer loyalty. It is achieving all these things and more for our customers and to see it featured in the Apple Staff Favourites list is the icing on the cake for us."
cPAQ is the ultimate taxi despatch system designed specifically for the taxi and private hire industry. cPAQ is a highly intelligent and feature rich system that is customised to meet each customers' needs and supported by Cordic's unrivalled customer service and 24/7 technical support.

About Cordic
Formed in 2002, Cordic Ltd develops and markets state-of-the-art fleet management solutions including mobile data despatch systems targeted at the Taxi, Private Hire and Courier Service sectors. Cordic's core products operate over public GPRS (General Pack Radio Services) networks and incorporate leading edge wireless and interactive voice response (IVR) technologies to provide reliability, flexibility and scalability while providing the most cost effective solution and best user experience. Having introduced the world's first GPRS based mobile data despatch system, Cordic is the largest, most proven provider of GPRS based taxi despatch systems in the world today. Cordic has teamed up with wireless operators, hardware manufacturers and software vendors and has strategic alliances with Vodafone, O2, Orange, T-Mobile, BT and HP. For more information, visit www.cordic.com.

About greentomatocars
greentomatocars is London's award winning car service. Launched to great acclaim in March 2006 with only 4 cars, greentomatocars now has a fleet of over 150 cars, including its iconic Toyota Prius and executive cars. It operates 24/7 across London and the Home Counties, providing outstanding service at minicab prices and enabling thousands of loyal cash and account customers to travel in the least polluting cars on the road.

www.greentomatocars.com
twitter.com/greentomatocars
facebook.com/greentomatocars

###
Cordic contact: 
Danielle Kinsella 
Corporate Communications 
Cordic Ltd 
t: +44 (0)1954 233 233 
danielle.k@cordic.com  
greentomatocars contact:
Hamish Phillips
Business Development
Green Tomato Cars Ltd
t: 020 8380 8900
hamish@greentomatocars.com
To read more information, click
here.
Cordic provides a ground breaking data despatch system combined with street navigation and satellite tracking for the transport industry.