Global Inkjet Systems launches new 2 Channel Print Manager Board PMB-C2
---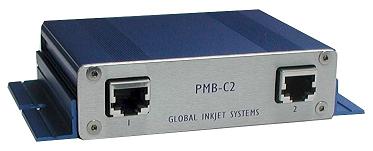 Responding to market demand, GIS has launched a 2 channel version of their successful Print Manager Board.
"The smaller, lower-cost version of the PMB-C8 is ideal for applications such as coding & marking, sample-print, and evaluation systems" said Nick Geddes, Managing Director of GIS.
The PMB-C2 provides communication between the PC and any supported manufacturer's printhead with the same level of control as the popular PMB-C8.
Read and write access to all available OEM printhead settings including temperature control, voltage and waveform settings, binary and greyscale calibration
Dedicated high speed (250MB) channel delivering print data on demand to each printhead
Advanced encoder management system with per-printhead encoder divide and sub-pixel adjustment for complete drop placement repeatability
Support for mixed printhead types and mixed print resolutions on the same electronics
Software upgradeable
The PMB-C2 is in a compact (110mm x 95mm x 30mm) aluminium anodised box.
The PMB-C2 has the same Advanced Encoder Management System (AEMS) as the PMB-C8, with fully optically isolated RS422 inputs for a dual phase encoder and product detect.
To read more information, click
here.
Global Inkjet Systems provides industry leading technology to system builders integrating industrial inkjet printheads.
Global Inkjet Systems Ltd (GIS)