Deloitte makes senior appointment in Cambridge office
---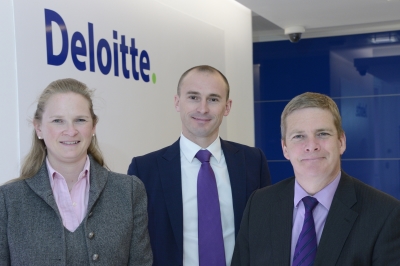 Deloitte has a new partner in its private markets team in Cambridge and two new director promotions too.
Matthew Hall has joined the private markets team at Deloitte in Cambridge as a partner and Alice Hawkes and Adam Norman have been promoted to Directors.
Matthew was most recently a partner at the firm's St Albans office and joins the private markets team here.
Paul Schofield, office senior partner for Cambridge, who heads up the region for Deloitte (pictured with Alice Hawkes and Adam Norman),  said: "We are delighted Matthew has joined our Cambridge team. He brings over 25 years of wide-ranging experience to our office.  I would also like to congratulate Alice and Adam on their promotion to Director which reinforces our ongoing commitment to ensure that we are best positioned to support private markets in the region."
_________________________________________
The Deloitte Cambridge office comprises 8 Partners and over 250 staff who deliver a full range of professional services to the East Anglian region. As well as focussing on the life sciences and technology sectors for which the region has become so renowned, the office has long standing specialisms in other sectors including the professions, consumer business, food and agribusiness.