ViewRanger – the app for adventure – has released a new version of the app for Android Wear™ smartwatches. Putting active outdoor navigation on your wrist, the latest version of ViewRanger features new screens, making it easier to view data and control the app on the go.

The new ViewRanger smartwatch app is compatible with Android Wear watches including the Tag Heuer Connected released in New York yesterday as well as Android Wear devices from Motorola, LG, Sony, and Samsung.





Craig Wareham, ViewRanger co-founder, said: "ViewRanger – which remains free to download – was one of the first apps to be Android Wear™ enabled and as more traditional watch manufacturers bring Android Wear devices to market, ViewRanger's functionality offers an increasingly accessible alternative to dedicated sports watches with a wide range of additional features."

The all-new ViewRanger also supports Android Wear™ devices' new Always On technology which uses a low-power ambient screen mode, to make sure that key navigation data is constantly available. The ViewRanger watch app will remain in the foreground showing crucial data permanently on-screen while saving battery power.

New watch screen layouts have been designed to make it even easier to interact with ViewRanger on the go, including improved controls to start, pause and stop GPS track recording.

The enhanced navigation screen on the watch makes it simpler to follow a route that has been previously plotted using ViewRanger on a smartphone, tablet, or on the ViewRanger website. Or you can download a route and guide from one of the hundreds of tourism, publishing and other organisations that have partnered with ViewRanger.

Improved data screens make it easier to see important information including speed, position coordinates, altitude, height gain and loss and heading with a quick glance at your wrist. New graphical data displays including altitude profile graphs have been added.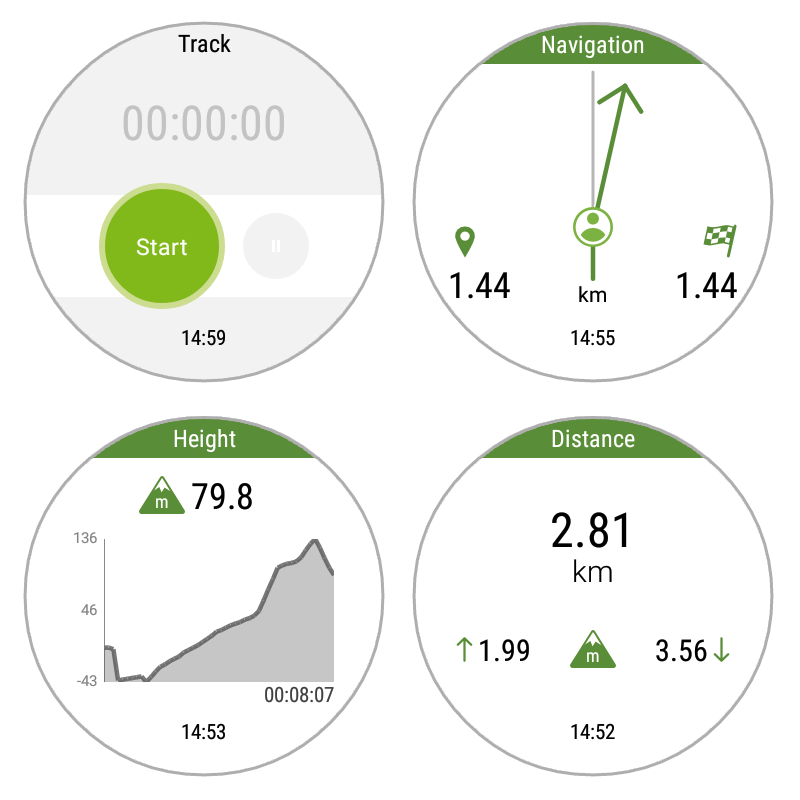 Craig added: "We've already seen many of the hands-free benefits that putting ViewRanger on your wrist can deliver and this latest version of the app makes it even easier for people wearing a smartwatch to view data and quickly control the functions they want, leaving the smartphone the watch is paired to, safely out of harm's way until more detailed mapping for instance is required.

"This is not an attempt to replicate the smartphone experience: instead it offers a different way to access time sensitive information that will appeal in particular to people on the move, out cycling or walking, or engaging in any activity where you need to keep your hands free."

Using ViewRanger on any Android Wear™ smartwatch, the following data can be viewed on the watch:

• Track recording controls: start, pause, stop
• Navigation arrow
• Position (coordinates).
• Distance travelled
• Height gain
• Height loss
• Speed of travel
• Heading
• Current Altitude
• Altitude graph

A proven active navigation app, ViewRanger is used and trusted by outdoor enthusiasts, search and rescue teams and other outdoor professionals throughout the world. It is free to download and is fully functional with global mapping that can be stored offline.

To find out more, go to: http://www.viewranger.com/



ViewRanger

The award-winning ViewRanger app helps active people across the world plan, navigate, record, and share their outdoor experiences.

Combining high-quality mapping for over 20 different countries, active GPS waypoint navigation, national and international trail guides, and sports computer functionality, the app is designed to work in areas with no phone or data coverage. On the move and with no signal users can view maps and actively navigate trails overlaid on the map, record their tracks, and view live stats.

In areas with a data connection, the BuddyBeacon function can be used to locate friends in real-time; link photos and tweets to tracks and share these adventures via a range of platforms; plan future trips nearby or far afield by downloading routes with descriptions and photos or plot or publish their own.

ViewRanger is used and trusted by over 200 Search and Rescue teams across Europe and North America, and over 500 brands use ViewRanger to publish and promote their trail content. The possibilities are endless: It's an indispensable app multi-tool, companion to all outdoor experiences.

The ViewRanger app is available on Apple® iOS, Android, and Amazon tablets, smartphones, and watches.
*******

For more information please contact Pelican Communications:
Kim.Butigan@pelicomms.co.uk | Will.Herman@pelicomms.co.uk
Tel: 01457 820807
________________________________________________________