ViewRanger will be one of only several apps promoted by Casio at launch and will come pre-installed [1] on the new wrist device.
The tech-timepiece joins the ever-expanding Android Wear range [2] and a growing apps ecosystem that includes both native apps and third-party apps from companies like ViewRanger.
ViewRanger's co-founder, Craig Wareham, said: "Our partnership with Casio's Smart Outdoor Watch is a massive endorsement of the app and will strengthen our credentials in the smart wearable market. We're humbled to be part of the launch and a significant milestone in Casio's history."
Casio said: "We believe the WSD-F10 is perfectly designed for outdoor enthusiasts with water resistance to 50 meters and built to military specifications, and we want to showcase apps on the device that enhance the outdoor user experience. ViewRanger is a great outdoor navigation app so the partnership was a no-brainer."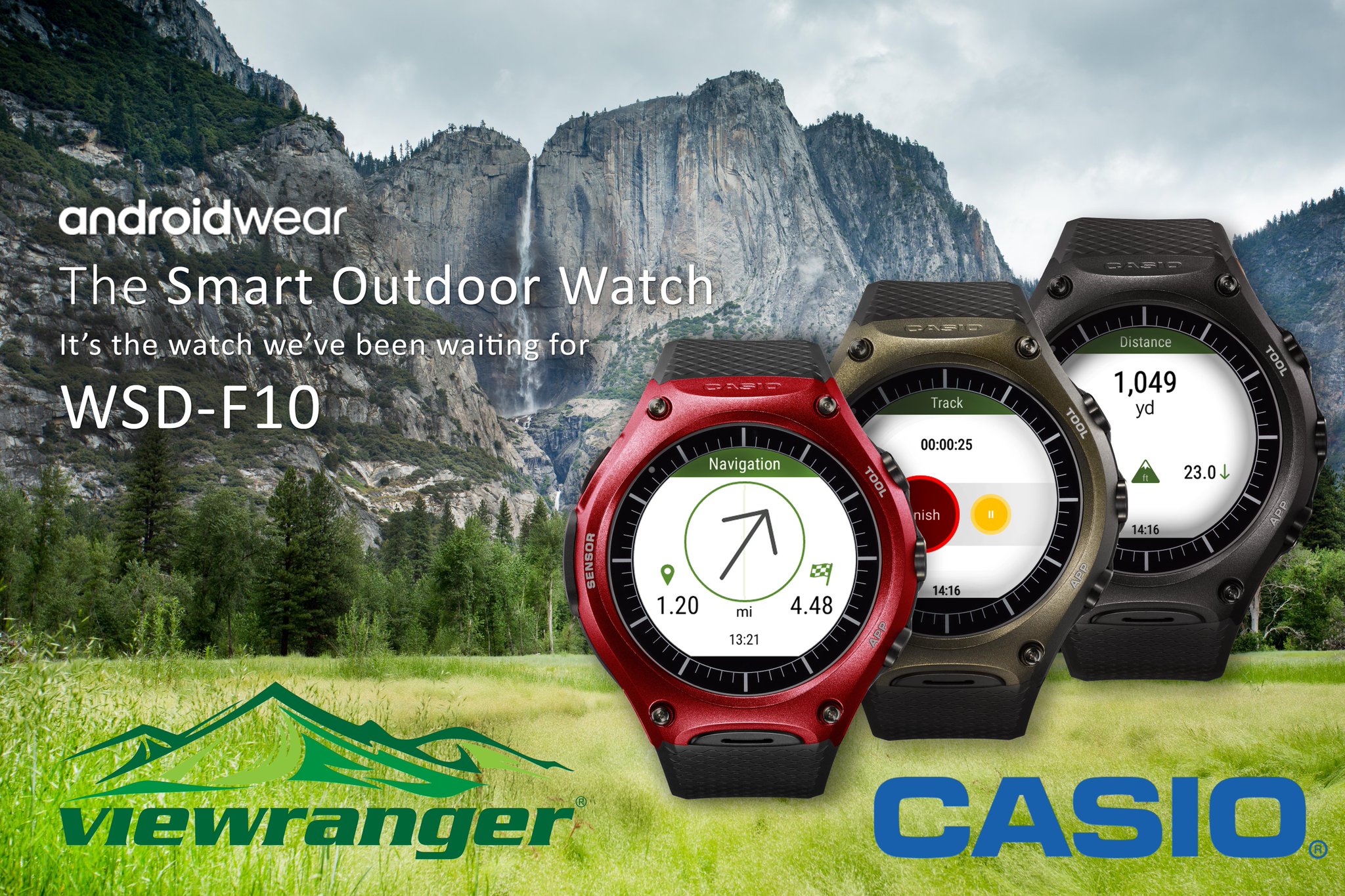 ViewRanger first introduced its wearable app on Android Wear in June 2014.  Since then, the company has made significant enhancements to the product and user experience – the latest release being made available in November 2015. Key features include:
Navigation guidance including navigation arrow and positioning coordinates (longitude and latitude, Ordnance Survey grid reference and Universal Transverse Mercator)
Tracks distance, speed travelled, and height gained and lost
Displays current altitude, and plots on an altitude profile graph
GPS track recording using the start, pause and stop controls
Improved data and navigation screen, making it easier to follow a route or see important information such as distance or speed travelled
Supports Android Wear "always-on" which allows the ViewRanger app to be permanently available, even when the watch goes into power-save mode
Can be used offline – does not require a data connection [3]
ViewRanger is fast becoming the outdoor mapping and navigation partner of choice for many wearable manufacturers.   
It was one of the first apps to be available on the new Android Wear platform when it launched in June 2014 and the Apple Watch when it was introduced in April 2015.
ViewRanger also featured in Motorola Moto 360 launch campaign and, more recently, was one of the five launch partners for the Tag Heuer Connected watch.
Craig said: "Our mapping and navigation credentials in the smartwatch market are unparalleled. We see huge growth potential in this space as more technology and watch manufacturers add wearable to their portfolios. 
"Our ultimate goal is to make ViewRanger available to as many active people as possible, regardless of pursuit or device."
According to IDC [4], the wearable market is set for huge growth over the next few years.  Worldwide sales are expected to reach 76.1 million in 2015, up 163.6% from 28.9 million in 2014.  By 2019, sales will reach 173.4 million, resulting in a five-year compound annual growth rate of 22.9%.
ViewRanger's smartwatch compatibility
Android phones running Android 4.3 or higher that support Bluetooth.  Users can pair their smartwatch with an Android tablet that meets the same requirements, but phones are recommended [5]
Apple Watch running Watch OS 2
Notes
[1] ViewRanger will be pre-installed onto WSD-F10 watches launched in the US in early April

[2] Tag Heuer Connected Watch, LG G Watch, LG G Watch R, LG Watch Urbane, Samsung Gear Live, Motorola Moto 360, Sony Smartwatch 3, Asus ZenWatch, Huawei Watch and the Fossil Q Founder

[3] Bluetooth connection is required with a compatible phone

[4] Source: IDC's Worldwide Quarterly Wearable Device Tracker http://www.idc.com/getdoc.jsp?containerId=prUS25903815

[5]   iPhones running iOS9 and above are compatible with Android Wear smartwatches, however, they will be unable to run Android Wear apps due to OS limitations


●Shock: Tested to meet MIL-STD-810G Method 516.7 Procedure IV. ●Vibration: Tested to meet MIL-STD-810G Method 514.7 Procedure I. ●Humidity: Tested to meet MIL-STD-810G Method 507.6 Procedure II. ●Solar radiation: Tested to meet MIL-STD-810G Method 505.6 Procedure II. ●Low pressure transport: Tested to meet MIL-STD-810G Method 500.6 Procedure I. ●Low pressure operation: Tested to meet MIL-STD-810G Method 500.6 Procedure II. ●High temperature transport: Tested to meet MIL-STD-810G Method 501.6 Procedure I. ●Low temperature transport: Tested to meet MIL-STD-810G Method 502.6 Procedure I. ●Temperature shock: Tested to meet MIL-STD-810G Method 503.6 Procedure I-C. ●Ice accretion: Tested to meet MIL-STD-810G Method 521.4 Procedure I.

(The device has been tested to perform under test conditions, and is not guaranteed to operate under all conditions in actual use. Not guaranteed against damage or accidents.)
About ViewRanger (www.viewranger.com)
ViewRanger is the outdoor discovery app helping people across the world locate, plan, navigate, record, and share their outdoor experiences.
The app, which is free, provides detailed maps for more than 20 countries, active GPS waypoint navigation, national and international trail guides, and sports computer functionality.  Designed to work in areas with no phone or data coverage, users can view maps and actively navigate trails overlaid on the map, record their tracks, and view live stats.
ViewRanger's BuddyBeacon feature allows users to share their location, route and adventures with friends and family in areas where there is a data connection.
ViewRanger partners with hundreds of national and international mapping agencies, tourism organisations and cartographic publishers to publish and promote their route guides and trail content.  It is also used and trusted by more than 200 Search and Rescue teams across Europe.
Currently, ViewRanger has more than 2 million registered users.  The app is available on all Apple and Android smartphones, tablets and smartwatches, as well as on Amazon Kindle Fire.  Users can also plot and map their route on my.viewranger.com website.
About WSD-F10 (http://wsd.casio.com/)
The WSD-F10 Smart Outdoor Watch is an Android Wear wrist device, with water resistance to 50 meters, and built to military specifications[6]. The new WSD-F10 wrist device is optimal for the outdoors, boasting water resistance for use in rain, and around water, and can withstand a variety of rugged activities. Incorporating Casio's tough performance and sensor technologies, the WSD-F10 delivers a polished experience as a wearable device. ViewRanger will be one of only several apps promoted by Casio at launch and will come pre-installed [1] on the new wrist device. The RRP for the WSD-F10 is $500 USD.
____________________________