Marshall Aerospace and Defence Group signs MoU with Cranfield Aerospace Solutions
---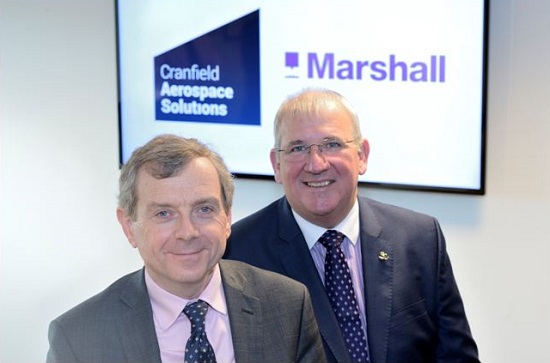 Marshall Aerospace and Defence Group has signed a memorandum of understanding with Cranfield Aerospace Solutions, owned by Cranfield University.
Add This Share Buttons
The MoU covers collaboration in various aspects of aerospace and aviation engineering, including concept, design, IP, conversion, modification, manufacture, test, operation, installation, certification maintenance, support and training.   In addition to this, the MoU encourages the establishment of joint working groups to examine and define proposal for joint programs in the areas decided upon by both businesses.
Steve Fitz-Gerald, CEO of Marshall Aerospace and Defence Group, commented: "innovation is in the life-blood of our business and we are committed to continue developing and delivering our strategy of growth with key partners".
Paul Hutton, CEO of Cranfield Aerospace Solutions, commented: "There are clear synergies and opportunities that we can add value to - our combined capabilities and engineering experience is proven".
Steve Fitz-Gerald, added: "Today Marshall supports over 10 Air Forces, Governments, major OEM's, airlines and operators around the world.  We have the second biggest design house in the U.K. and have just celebrated the award of our second Queen's Award in three years for International Trade - we are looking forward to increasing our footprint globally and working collaboratively with Cranfield Aerospace Solutions to deliver for our customers".
Paul Hutton added: "Marshall has a proud heritage with a strong focus on the future, and Cranfield Aerospace Solutions has an unrivalled reputation for innovating in the most challenging aerospace projects. We are excited about the opportunities ahead and I believe that our complementary capabilities will make a compelling prospect". 
 Image:  The MOU was signed by Steve Fitz-Gerald CEO of Marshall Aerospace and Defence Group (right) and Paul Hutton CEO of Cranfield Aerospace (left).
Marshall Aerospace and Defence Group (www.marshalladg.com)
The company, which is headquartered in Cambridge, has more than 80 years' experience in aviation and a full-spectrum engineering capability. The company is working with 10 of the world's Air Forces in relation to the C-130 platform and supports leading OEM's on civil and military platforms.  
Marshall was the first Lockheed Martin Approved Service Centre, the first Lockheed Martin Heavy Maintenance Centre and has supported more than 300 C-130 aircraft for more than 52 customers in 33 countries.
Is a leading independent aerospace and defence company, specialising in the conversion and modification of military, civil and business aircraft; defence vehicle engineering and shelter manufacture. Its capabilities include engineering design, manufacture and test, systems integration, maintenance and product support, and the provision of personnel, training and advice.
The company is valued for its integrity, performance and customer focus which has been demonstrated through its innovative solutions and ability to deliver on-time and to-cost.  Marshall Aerospace and Defence Group is part of the Marshall Group of Companies which employs over 6,000 people with a turnover in excess of £2.4 bn.
Cranfield Aerospace Solutions (www.cranfieldaerospace.com)
Cranfield Aerospace Solutions (CAeS) is an aerospace market leader in rapid prototyping of new aerospace concepts, and modifications to existing manned aircraft, and UAV and drone platforms, to meet the most challenging issues facing the industry today.
Utilising its aerospace reputation established over 30 years combined with its CAA/EASA/MOD approvals to: design, manufacture, test and fly, and maintain airborne systems, CAeS provides a comprehensive range of services for both manned aircraft and BVLOS unmanned airborne vehicles (UAVs/drones). The company core capabilities are aircraft design, modification, certification and maintenance services.
CAeS also provides a unique product portfolio including: "the Cranfield Seat" a sophisticated low cost G-cueing simulator for military and commercial aircraft, a G-cueing driving simulator for F1 motor sport and sports car/super car markets, the Cranfield De-Orbiting Device a proven system for removing a satellite from orbit at the end of its mission, and Cassius a uniquely capable autonomous low cost surveillance UAV/drone for commercial and military applications.
CAeS's military heritage also means that we retain the capabilities for a wide range of services for the safety clearance of the carriage and release of weapon systems/DAS for land, sea and air vehicles, friction surveys on runways and helipads, and aircraft water ingestion trials. The company is also proud to support aircraft of the Battle of Britain Memorial Flight (BBMF), and Vulcan and Canberra restoration projects.
CAeS is a wholly owned subsidiary of Cranfield University and together we seek to turn cutting edge research into market leading aerospace technologies and services.
*******
For further information, please contact:
Oliver Drury
Director of External Communications
Marshall Aerospace and Defence Group
Tel: +44 (0)7771 947225
Email: oliver.drury@marshalladg.com


Mark Kelk,
Business Development Manager
Cranfield Aerospace Solutions
m. +44(0) 7970 208634
M.Kelk@CranfieldAerospace.com
_______________________________________________________
Founded in 1909, the Marshall Group has a turnover of £2.5bn and over 5,700 employees. Headquartered on a 900-acre site in Cambridge, Marshall has three principal arms to the business: Aerospace and Defence; Property; and Ventures.