Find out more about working at one of Cambridge's greatest success stories: AVEVA
---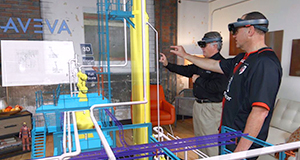 Free food, drink … and some exciting technology - come and meet AVEVA!
Come to the Guildhall Cambridge on Tuesday 24 October at 5.30pm for food, drink, demos, including the Microsoft HoloLens, and to meet some of the team that make AVEVA one of the best places to have a career in software development.
AVEVA – you may not have heard of them, but wherever you are in the world, it is likely that a project designed, built or operated using AVEVA software supplies your electricity, fuels your car, makes the dye for your clothes and transports them across the oceans. 
AVEVA is one of British engineering software's greatest success stories. From an innovative and visionary concept spun out of the University of Cambridge 50 years ago, AVEVA has become a global technology leader providing engineering, design and Information Management software to the Process Plant, Power and Marine industries.
Be it an oil rig, a power plant or a ship, AVEVA's customers, including leading household names, rely on AVEVA technology to work faster, act smarter, reduce risk and save costs on the design, build or operations phase of their assets.
AVEVA provides its customers with innovative and secure software solutions and services. Employing over 1,700 people, AVEVA has achieved major industry firsts, partners with leading technology organisations such as Amazon Web Services and Microsoft, and has twice been voted Britain's Most Admired Software company.
Remember AVEVA.  With an E for Engineering.
To register your interest please email kate.magill@aveva.com
www.linkedin.com/company/aveva
AVEVA is a global leader in engineering and industrial software driving digital transformation across the entire asset and operational life cycle of capital-intensive industries.