Calling all MRC-funded PhD students!
---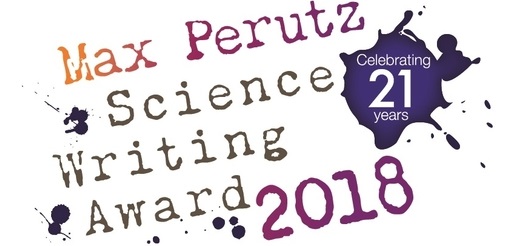 The MRC's 2018 Max Perutz Science Writing Award is now open.
The MRC Max Perutz Science Writing Award is one of the ways the MRC encourages MRC-funded PhD students to develop outstanding communication skills and engage with the wider public about their work.
Now in its 21st year, the award is named after the eminent scientist and Nobel Laureate Dr Max Perutz, an accomplished and natural communicator who died in 2002. Since the competition began in 1998, over 1,000 MRC researchers have submitted entries and taken their first steps in communicating their research to the public.
The challenge is to write 800 words for a lay audience and explain 'Why does my research matter?'. The winner gets £1,500 and their article published on the MRC Insight blog and the MRC website. There will also be runner up and highly commended prizes.
On winning last year's competition, Kirstin Leslie, from the Institute of Health and Wellbeing at the University of Glasgow, said: "Before the competition, science writing wasn't something that I'd thought much about. I always liked writing but I hadn't believed that I'd be able to do it well. Winning the competition is quite validating and humbling."
For inspiration, read Kirstin's winning article on our MRC Insight blog.

For more information, and to enter the competition, please visit: https://mrc.ukri.org/skills-careers/studentships/for-current-mrc-students/max-perutz-science-writing-award/  
To read more information, click
here.
The Medical Research Council has been at the forefront of scientific discovery to improve human health. Founded in 1913 to tackle tuberculosis, the MRC now invests taxpayers' money in some of the best medical research in the world across every area of health.
MRC [Medical Research Council]