Register your interest in running the London Marathon
---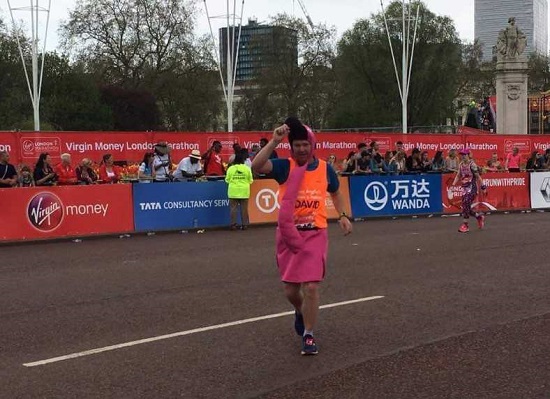 Those interested in running the 2019 London Marathon for East Anglia's Children's Hospices (EACH) can register their interest now.
The charity is allocated a small amount of places in the 26.2-mile race each year courtesy of the Charities Forum, the collection of charities of which The Duke and Duchess of Cambridge and Prince Harry are patrons.
Last month EACH was supported by 15 runners, some of whom obtained places through the public ballot. Their efforts combined raised over £45,000.
Among those runners was David Taylor. He ran in a flamingo costume, a fun addition to the marathon, but also a poignant symbol of the unimaginably tough time his family endured four years ago when they lost a beloved little boy.
Baby Jude was born on 2 April, 2014. David and wife Mary, from Mulbarton in Norfolk, had decided to give their son a chance, after a 20-week scan and subsequent investigations at London's Great Ormond Street Hospital (GOSH) revealed he had a rare condition known as hypoplastic left heart syndrome (HLHS), which effectively meant he had half a heart. Their options were to terminate the pregnancy, allow Jude to die naturally after birth or to undergo surgery in an attempt to save him.
Jude was born at the Norfolk and Norwich University Hospital by caesarean section. He was then taken to GOSH's Flamingo Ward, home to the cardiac intensive care unit, and underwent open-heart surgery aged just five days. Due to swelling of his heart Jude's chest had to be left open, but attempts to close it a week later saw him crash. He was put onto an extracorporeal membrane oxygenation (ECMO) machine – like a heart bypass machine – as a result.
David and Mary feared the worst when Jude's surgeon told them he had only seen three babies with HLHS come off the machine successfully, but Jude pulled through.
The procedure to close his chest was carried out over a period of days, by his bedside as Jude was too ill to be moved, but sadly his condition deteriorated and Jude died in Mary's arms on 28 April.
David said: "We miss Jude every second of every day. His courage and bravery are an inspiration."
After his death Jude was taken to EACH in Quidenham, where he stayed for three weeks until his funeral.
David, 39, an Anglian Water technician, explained: "We got to spend some special time with Jude making hand and foot prints, holding him and creating memories we wouldn't have had if it wasn't for EACH. This was our time to say our goodbyes and it was also very important for Jude's big brother, Ethan, to visit and create memories.
"It's now four years on and not a day goes by when we don't think about Jude and wonder what he'd look like or how he'd be. Through the support of EACH we go to a bereavement group once a month. Ethan, now eight, goes to a siblings group throughout the year, too, that he loves, and receives one-to-one support.
"EACH are truly an amazing charity who have helped us as a family. We really don't know what we'd do without them. This is why I wanted to give something back to EACH."
Emma Benstead, EACH Events Fundraiser, said: "David obviously has a very close, personal connection to EACH and we were delighted he decided to run the marathon for us this year. His efforts and those of all our runners were incredible, particularly given the hot weather.
"We're now looking ahead to next year and asking people to register their interest. Those who do will receive an email later in the year when our ballot goes live. This will close around the end of October and successful applicants will be notified the following month.
"Running the London Marathon is a truly fantastic experience and money our runners raise helps us to continue providing vital care and support to children and young people with life-threatening conditions, and their families, across East Anglia."
Register your interest in running the London Marathon for EACH at www.each.org.uk/londonmarathon19
East Anglia's Children's Hospices (EACH) aims to maximise the quality of life for children and young people with a life-limiting or life-threatening condition, and to support their families.
East Anglia's Children's Hospices (EACH)