Green GB week sees businesses focus on their carbon footprint
---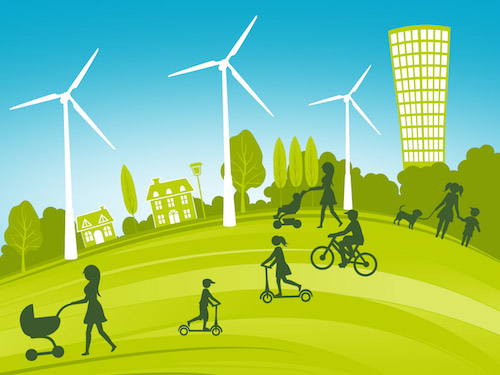 It's Green GB Week. Find out what's been going on and why it's a good comms opportunity.
This week has been earmarked by the Department for Business, Energy & Industrial Strategy for a series of events to celebrate green growth. Green GB Week  is intended to highlight the benefits of green (or 'clean') growth for society and the economy. It's a great comms opportunity for organisations across the country to shout about what they're doing to reduce their carbon footprint.
Businesses, civil society groups and government representatives are joining forces to put on a week of activities across the UK. This will include demonstrations of:
The role of the UK's academic and business communities in developing new low-carbon technologies
The role of the financial sector in developing innovative financial products that promote climate change
Business models that help tackle climate change while generating economic growth and creating new jobs
The week's events
The week's events included a breakfast networking meeting,  held yesterday (Tuesday 16 October) called Low Carbon Heating and Cooling for Clean Growth. It was organised by the Sustainable Innovation in Refrigeration, Air Conditioning and Heat Network to explore the challenges and opportunities of making heat greener for UK businesses. 
A panel discussion will be taking place at the Tate Modern today Wednesday 17 October, (09:00 to 10:30), looking at women who are driving the climate change debate and the changing financial landscape.
And various organisations are using Green GB Week as an opportunity to create awareness of their green credentials, including the University of Leeds, Great Places Housing and Imperial College London. Imperial is hosting a number of discussions and seminars this week, as well as exhibiting at the Whitehall offices of the Department for Business, Energy.
New clean growth website
The government has launched a new website to support Green GB Week, with information for businesses and universities, individuals and communities. There is a Pledge Wall for businesses to commit to making their activities greener and a toolkit with ideas for getting involved in Green GB Week.
The Department for Business, Energy & Industrial Strategy believes that businesses and universities are key to driving its clean-growth ambitions. With climate change now such a hot topic, trillions of pounds are being invested globally into sectors such as transport, construction and power in an attempt to reduce greenhouse gas emissions.
This investment is coming from a range of sources, including national governments, intergovernmental organisations and industry. Government figures show that almost US$10 trillion is being invested internationally in low-carbon energy alone over the next three decades.
Industrial Strategy
The government's Industrial Strategy seeks to position the UK at the forefront of providing low-carbon technologies, through innovative systems and services. The Industrial Strategy Challenge Fund is available to help pay for research and development in a number of areas that have been earmarked as national priorities, including smart energy, sustainable food production and Faraday batteries.
Renewable energy is a big part of this push towards clean growth and installations are continuing to grow in the UK. The UK now generates around a third of its electricity through renewables, according to 2018 government figures. Renewable energy figures include wind and solar outputs, as well as a small amount of hydro-electric generation.
KISS firmly believes in the power of storytelling to boost awareness – this is a brilliant opportunity for organisations supporting the initiative to help to boost their green, or clean, credentials. The week presents some great media relations and social media opportunities. 
You can see some of KISS's technology case studies here, including its community engagement campaign for Push Energy to publicise the installation of six solar farms in East Anglia. The installation produced power for 27,800 homes, saving more than 55,600 tonnes of CO2 each year.
See also: Grant funding for businesses looking to switch to electric vehicles
To read more information, click
here.
KISS is the creative agency that clarifies the complex.