Prior Scientific launches NanoScan NPC-D-6000 Series multi-channel controller
---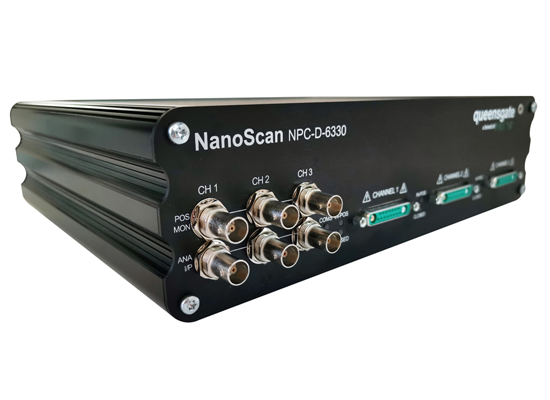 Prior Scientific announces the release of its Queensgate NanoScan NPC-D-6000 Series Multi-Channel Closed Loop digital nanopositioning controllers.
Prior Scientific is pleased to announce the release of the Queensgate NanoScan NPC-D-6000 Series Multi-Channel Closed Loop Controllers. Both the single and multi-channel digital nanopositioning controllers are designed to operate in a closed loop feedback mode with stages or actuators incorporating capacitive position sensors. The controllers deliver:
Low noise
Low drift
High power
Best resolution
Fast position update rates contribute to high speed positioning accuracy for dynamic applications that require high speed movement of the stage. The NPC-D-6330 controller is capable of controlling up to three piezo driven actuators and two or three axis nanopositioning systems. The NPC-D-6110 is a single channel version delivering the same performance for single axis nanopositioning systems.
Alison Raby, Business Development Manager at Queensgate Instruments says," This new product when paired with a Queensgate stage or actuator delivers high performance positioning for dynamic applications. The function playback capability sets this product apart from our competitors."
The NPC-D-6000 series controllers deliver repeatability of movement with improved precision and accuracy for precise imaging and focusing at higher maximum speeds with fast step settle times. This can be particularly important for longer range stages or stages designed for high load bearing.
Several applications and markets are benefitting from the new product including microscopy, AFM, hard disk drive testing, metrology, beam steering & nanoscale machining, showcasing the precision, accuracy and control the new NPC-D-6000 series has to offer.
About Prior Scientific's Queensgate Instruments Brand
Founded in 1979, Queensgate Instruments was a 'spin out' from a ground-breaking research program at Imperial College, London. The company is known for defining the levels of accuracy required, and for defining terms used in describing the performance of nanopositioning systems. Queensgate's early research and product developments showed the world it could play a huge part in the development of industries, including biotechnology, medicine, astronomy, aerospace, semi-conductors, mass computer storage devices and optics. In 2018 the company was brought by Prior Scientific Instruments Ltd, a global leader in the development of precision motion, automation and optical systems, sub-systems and components.
Offering a wide range of nanopositioning products that includes sensors, stages, control electronics and software, Queensgate also offers bespoke solutions to help our customers with the most challenging of problems they face. Our team of engineers based in Cambridge, UK and our manufacturing facility in Torquay, both ISO 9001:2015 certified, help create the next generation of global nanopositioning products.
For more information, please visit: www.prior.com/nanopositioning/control-electronics-and-software
To read more information, click
here.
Prior Scientific is a global leader in the design and manufacture of precision positioning devices, optical systems, automation solutions, and components