Deloitte scales up its Cambridge Tax Team
---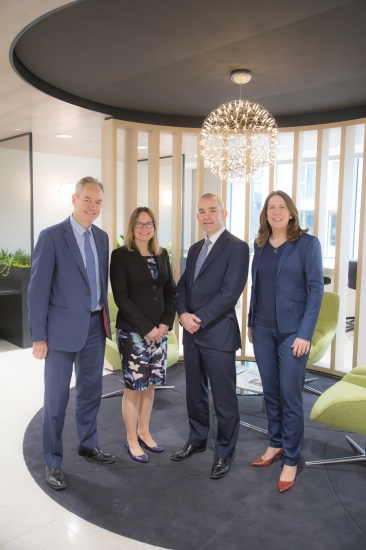 The Tax Team at Deloitte in Cambridge continues to grow with strategic appointments.
David Lyons has been promoted to Partner

David, who has been with Deloitte for 16 years, is a mergers and acquisitions (M&A) tax specialist, and works on all forms of corporate, private equity, infrastructure and capital market transactions, including acquisitions, disposals, and reorganisations. David's portfolio also includes a number of private equity backed groups.

David said: "I'm extremely proud to work in a team that is passionate about making an impact that matters for our clients, our people and the broader community in Cambridge and East Anglia.  It's an exciting time to be a business advisor, the role is varied and we are focusing on growing our team, which is a key part of our national and international tax business.  Working with this ever growing team on some of the largest deals in the market, provides a fantastic opportunity to support our clients, our people and the community to grow and prosper."

Susie Mullin has joined the Cambridge Private Markets team as Director

Susie has been based in the London office for 12 years and has spent her time with Deloitte focused on advising individuals and their businesses on their tax position on a wide range of transactions from initial set up advice to ultimate disposal. This includes advice on asset acquisitions, restructuring, private equity investment, advice to shareholders on exit and reinvestment and succession planning.  

She said: "I am really excited to be joining the Cambridge Private Markets team which I believe is second to none in our market. Our team's collective skill set gives us a unique ability to advise families and their businesses on all aspects of their tax affairs in a joined up, comprehensive manner. Our team has been involved in providing some fantastic advice locally and nationally over the last couple of years and it's a great opportunity for me to continue this great work with them."  

One of the leading business and private client specialists in the region, Deloitte's Cambridge Tax team comprises 80 advisers who act for the firm's regional, national and international client base on a range of matters.

Across the team, areas of expertise include: supporting families and their trusts, investors, partnerships, privately-owned businesses, venture capital and private equity funds and businesses, as well as international and listed groups.

Commenting on the team, Richard Blackwell, Tax senior partner and lead said: "With an extensive and dedicated team, and our national and international network, I am proud that we are seen as the go-to adviser for so many leading entrepreneurs and businesses.   A number of members of the team also provide their time and expertise to support TaxAid (a charity that helps people on low incomes when they get into difficulties with their tax affairs), as well as our local charity partners – most recently Action for Children.

The calibre and capability of our people, makes Deloitte the firm of choice for growing numbers of entrepreneurs, families and businesses in the region."

Paul Schofield, Cambridge Practice Senior Partner said - "I'm pleased to congratulate David and welcome Susie.  The Cambridge tax team of 80 professional tax advisers provide practical and commercial experience that has been built over many years.  Alongside our wider audit, corporate finance and consulting service lines, our Cambridge team now extends to over 250 people, so we can advise on the most complex matters. Our clients come to us because they trust us to support them in navigating their way through very complex situations."

Image (L-R):  Richard Blackwell, Kirsten Tassell, David Lyons and Susie Mullin.
The Deloitte Cambridge office comprises 8 Partners and over 250 staff who deliver a full range of professional services to the East Anglian region. As well as focussing on the life sciences and technology sectors for which the region has become so renowned, the office has long standing specialisms in other sectors including the professions, consumer business, food and agribusiness.