Cambridge South East Transport - update on A1307 works
---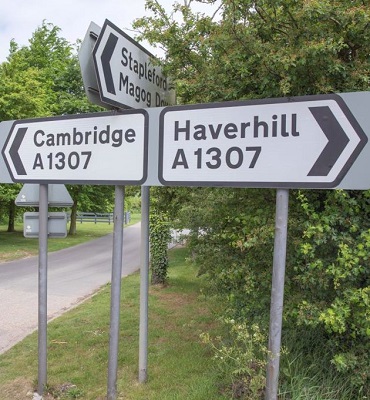 The Greater Cambridge Partnership (GCP) has issued an update on the A1307 works in South East Cambridge.
GCP writes:
Linton High Street - traffic lights
Work has been completed to install new traffic lights at the junction of Linton High Street with the A1307. Our contractor Skanska completed the works ahead of schedule. Further testing and checking of the signals might be taking place over the coming weeks to ensure the timings of the new traffic lights are at their optimum.
Babraham Road/Granham's Road junction (Cambridge)
Some early vegetation clearance works are being carried out later this week and early next week near the A1307/Granham's Road junction near Great Shelford. The scheme will create a right-turn lane from the A1307 Babraham Road into Granham's Road. The A1307 will be widened in the junction area to create space for the right-turn lane. The existing traffic island will also be replaced with a smaller island.
The actual construction for the junction improvements are scheduled to take place later this year, once other roadworks in the area are completed. Whilst this is later than originally hoped for, this delay is part of a coordinated approach with County Council's Streetworks team to avoid too many roadworks happening at the same time in the same area.
The tree removal works later this week and early next week are required to improve visibility at the junction and will be undertaken once an ecology check has been carried out. After the works are completed, new trees are being planted in highway land in appropriate positions to ensure visibility. A new hedgerow will also be planted to provide continuity with the existing hedgerow in the area. The new vegetation will be planted after the main works are completed to ensure it isn't damaged during the construction.
 
How to keep up to date with the project?
Visit the web page for more information on the project
Construction queries should be directed to Skanska's project team on A1307schemes@skanska.co.uk  or telephone their 24-hour contact centre on 0330 105 1980.
The Greater Cambridge Partnership is the local delivery body for a City Deal with central Government, bringing powers and investment, worth up to £1 billion over 15 years, to vital improvements in infrastructure, supporting and accelerating the creation of 44,000 new jobs, 33,500 new homes and 420 additional apprenticeships.
Greater Cambridge Partnership