National Day of the People's Republic of China
---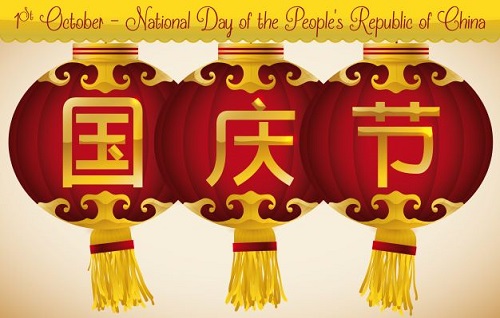 Today, 1st October 2019 marks the 70th anniversary of the National Day of the People's Republic of China.  
Babel writes:
The National Day of the People's Republic of China is celebrated on 1 October each year. 2019 is the 70th anniversary.
In 1949, a long-standing civil war between two political parties in China resulted in the country being split into two states.
They became known as The People's Republic of China, led by the Communist Party and a man named Mao Zedong, who took control of the mainland; and the Republic of China, led by the Kuomintang party – now known as the island of Taiwan, which lies off the coast of China.
The PRC leaders and 300,000 Chinese celebrated the creation of the new government in Tian'anmen Square and it subsequently became the National Day.
From 1949 to 1959 the National Day was celebrated with military parades in Beijing. From 1960 to 1970, there were no military parades (due to money saving) but the day was still celebrated with large gatherings in Tian'anmen Square. However, the military parades returned again to the Square to celebrate key anniversaries such as the 35th, 50th, 60th and this year is the 70th anniversary. Exactly at sunrise, uniformed troops march out to start the flag raising ceremony.
The 7-day holiday from 1–7 October is called 'Golden Week', as it is the biggest week for tourism in China, when people have a week off to reunite with families and take trips. Last year, over 700 million trips were made by Chinese travellers. Travel and tourism revenue during the holiday reached $87 billion, and retail and catering revenue exceeded $200 billion. Sanya, Beijing and Xiamen were the top three destinations over the holiday.
Read our Chinese Cultural Newsletter for a snapshot of Chinese business culture.
To find out how you can work more effectively with your Chinese colleagues, clients or suppliers please get in touch for sample course outlines for Chinese Mandarin or Cantonese language programmes or Chinese cross-cultural workshops.   All our courses are tailored to suit your needs and delivered at a location of your choice or online.
To read more information, click
here.
Babel delivers language training in all major world languages, coaches delegates to be culturally competent in their global roles, briefs expats for starting new jobs overseas and helps create high-performing remote teams.
Babel Language & Cultural Consultants