Outsourcing design can make great business sense
---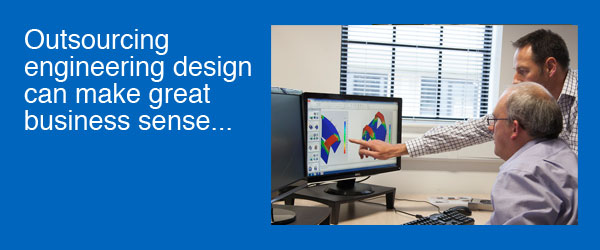 Warley Design Solutions gives the reasons for outsourcing your design and engineering to specialists - and dispels the perceptions against.
Government data shows that people who work in SMEs and small consultancies work more for less than those in Corporate employment.  This translates to great value for customers.
Outsourcing your design & engineering to specialists can make great business sense.  Here's how:
design specialists who work across several sectors can bring experiences of new materials, contemporary best-practices and ground-breaking technologies from related industries

external organisations can immediately extend your network to new suppliers, technical specialists and knowledge-bases

it's common for consultancies look to partner with specialists who offer complementary services, so through this the client can access personnel across a wide range disciplines through one business relationship

service providers are often accustomed and willing to work in a more driven way in order to ensure that important project dead-lines are met

they can bring unparalleled levels of flexibility and agility when providing materials and services (e.g. prototyping) from 3rd parties

they are often paid on successful completion of milestones, so are motivated to draw activities to a satisfactory conclusion in a timely manner.
Warley Design Solutions is a mechanical design & engineering services provider with a difference ..... our back-ground uniquely positions us to exploit our hands-on experiences in design, engineering and manufacturing to ensure that products are engineered to perform and designed to be manufactured at the optimum price-point for the intended production volumes.
There is sometimes resistance towards out-sourcing.  Some of the main road-blocks we encounter are:
"Outsourcing appears to be expensive"
This is a perception from the view-point of decision-makers who do not see true internal costs, such as functional managers.  True would need to include indirect costs arising through sickness and training as well as overhead costs like management, computing hardware and software licensing.
"Some clients insist on having someone working on-site"
This does not really result in us giving the best service, as the maximum the client can get is one single engineer's worth of skills and experience.  Executing work back in our office enables us to leverage the skills and experience of the wider team and bring the best people to the project as necessary.   There is a financial benefit too - the client is also bearing the cost of the facilities and tools.
"Internal design teams may feel that external service providers threaten their positions"
We recognise the importance of internal staff: critically they know how the organisation works, provide the procedural know-how and have knowledge of the history behind products.   This collectively is often referred to as the "company DNA".  Leveraging this know-how is highly beneficial to the successful fulfilment of the project and so we work hard to foster good relationships with the internal project team.
The "not invented here" mentality...
We want to do the very best job possible for our clients so that they are encouraged to engage with us again.  When we exit a project we need to leave things in good shape and a very important part is that the people left "holding the baby" feel personally bought-in to the end result.  To this end we like to fully involve all stake-holders throughout the project so they feel a sense of "ownership" in the outcome.
The reality is that outsourcing design & engineering to a specialist service provider is an excellent tactic to use in order to deliver projects on time and to budget.  By using the combined skills, know-how and experiences from both external and resources the client can benefit from blending established and proven techniques with fresh thinking and contemporary best-in-class practices.
__________________________________________________
Experienced product development professionals who provide innovative mechanical design solutions for electronic products in industry sectors where reliability and performance needs to be assured.
Warley Design Solutions Ltd.