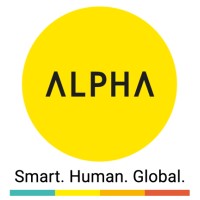 | | | |
| --- | --- | --- |
| 16 Global Offices | Dedicated in-house teams | ​Over 80 languages |
The Alpha Charity Fund
Set up in 2018, the Alpha Charity Fund has supported a number of funding initiatives close to Alpha employees' hearts. Most recently it has agreed to support all the Alpha employees who are running the Cambridge Half Marathon in October 2021 – the runners in turn are supporting a wide range of organizations and fundraising groups, and we are thereby helping everyone along the way. We are also currently in talks with local schools on how we may be able to help them in the future.
The Alpha Charity Committee manages the fund aimed at supporting these charitable events and organisations. Funds are drawn from initial company donations and the committee decides on the distribution of funds once a quarter by reviewing the applications received.
The Charity Fund committee is formed of five Alpha staff members. They are currently Mária Bršlíková, Orsi Batta, Olga Vershinina, Aimee Gallagher and Darren Hughes.
---
Cambridge Half Marathon
Alpha has put together a team of 8 employees to run the Cambridge Half Marathon on the 17th October. The team will be sponsoring various charities, including
Translators Without Borders, Amnesty, and Reprieve. This will be Alpha's big charity event of 2021.
The TTP Cambridge Half Marathon race starts at 9:30am, with a number of waves going off for almost an hour. This year, they will be once again using six sites, including St Ives and Longstanton, which both come in along the guided busway, alongside the sites at Milton, Trumpington, Newmarket and Madingley Road.
The route will take in two Cambridge colleges – Jesus College and King's College. The run will pass through the grounds and get a good look at the historic buildings.
Alpha CRC's Grateful Eight
Here are the profiles of our champion 'Grateful Eight' runners, representing Alphafor the main event:
Paul Mangell
Paul says that a number of things made him want to run the Half Marathon - definitely to "keep myself moving and motivated" through the lockdown, in addition to the opportunity to run with colleagues, and also to do something positive for their chosen charities. When asked what he's most looking forward to most for the event, it was an easy answer – "I'm looking forward to a well-earned pint of beer at the end..."
Paul has, in fact, ran both half and full marathons before, and he says that he very much enjoyed the Cambridge course, which winds its way through several colleges - a very attractive aspect forthis race. The charities Paul will be running for are Amnesty and Reprieve.
Baptiste Guignard
Although more of a cyclist, Baptiste says that he's been running for a while now, although never in an official race. One of the aspects which enticed Baptiste to take part in the Cambridge Half Marathon was that it is a good extra motivation. He believes it will be a great opportunity to test himself, as well as it being a good step towards a future marathon.
Baptiste is really excited to race, and is especially looking forward to the thrill of competition, which he's been missing during the pandemic. The general atmosphere of this type of event is also a thrilling aspect which Baptiste enjoys. The additional charity which Baptiste would like to support for this race is UNICEF.
David Kelemen
Running for David is primarily stress relief and achallenge for himself to keep improving. His first, bigger challenge to-date was the 12K, and in preparation he took part in a night run event in Budapest in 2017. He says that was a huge rush with thousands cheering, winding his way from historic Buda down to the river, with friends waiting near the finish line.
David's been doing sports competitively since he was about 10, and has maintained the urge to compete ever since. Taking part for David is another challenge, but also a way of embracing the city he quickly grew to love. He's really happy to be a part of a city with a strong community, and to support good causes. David is considering supporting CPSL Mind - a charity that supports people with mental health problems.
Notburga Rothender
Notburga is one of our German linguists at Alpha, and has already completed the Cambridge Half Marathon. This was, however, a while back and before children, so in her own words "I'm ready to regain my fitness so I would like to sign on to Team Alpha!" Good luck, Notburga. She will also be running in support of Alpha'schosen charities: Amnesty, Translators Without Borders, and Reprieve.
Hao Yang
Hao is one of our PM trainees, and she says that she's honoured to join the Alpha Half Marathon team for the big day in October!
Although she doesn't have any previous experience with Half Marathons, Hao plans on doing a bit more exerciseand preparation from now on, and would be happy to join the training runs nearer the big race day.
Željka Novak Baxter
Željka says she's made some long lasting friendships through running, and that just knowing you're going for a run with friends makes it easier to put shoes on and get out of the house. As Željka hasn't had achance to meet a lot of her co-workers yet this would be a good way to meet people and get exercise. Having only moved to Cambridge in 2020, she's very excited to run through the historic city core.
Željka started long distance running about 9 years ago, andhas done 12 half marathons and 3 full marathons... but thankfully this will be the flattest course she's ever ran! In addition to running for Translators Without Borders, Amnesty International and Reprieve as a group, Željka would also like to support a local animal shelter.
Carolina Franco
Carolina started running when she was 15 years old, by the beach in her hometown in Brazil. She mentioned that her city is quite famous for regularly hosting Triathlon racings in the country, and the area is flat and quite pleasant togo for a run facing the sea. Carolina tends to think of running more like a meditation, as she's always noticed that whenever she goes through a really bad period of time, running was the perfect outlet, helping her to get back on track.
Carolina has run two Half Marathons across the UK, and a few 10k and 15k races in Brazil. She's particularly looking forward to this race, and believes it is going to be a good push to start focusing again on what she wants and what is valuable in life.
Fernando Blasi
Fernando has been classified as the 'Forrest Gump' of the Alpha half-marathon team – "point him in the right direction, set him off and he'll never stop running..."
Once, when travelling on business in the US with Paul Mangell, Fernando wentout in the late afternoon for 'a half an hour jog'... Three and a half hours later, in the near dark, he got back to the hotel (having left his mobile in the room), much to the relief of Paul who had begun the process of sending up flares and gathering a search party. Fernando rolled up, having got lost, and explored most of North Los Angeles and Marina Del Rey...
Like we said: Run, Forrest, Run! Fernando mentioned that he's sure to finish the race, hopefully in front of Paul!
Although he's never done a running marathon, Fernando has taken part in a number of rowing marathons on a single scull. They would be 52km and take about 5 1/2 hrs (for Fernando), to complete. There is a UK rowing event called Boston Marathon, which he's done several times. Fernando is also running for Alpha's chosen charities. The picture shown here is of Fernando's 'other self' at the starting station of one of the rowing marathons. He says that was the start of 52 unbelievably unforgiving kilometres.
Good luck to all of our intrepid runners, we're very proud of you! We will be opening donations soon, so keep an eye on our social media and emails.
---
Industry News
As recently reported by the BBC, the domination of English and a handful of other languages on the internet is leaving indigenous cultures without a voice online. The issue for most people that speak indigenous languages and dialects is thatsocial media platforms are not letting them post in their native tongue, resulting in them either having to switch to another language or remaining digitally silent.
Wired also questions whether the internet has played a large role in the dying languages. It reports that the internet, much like the written word, struggles toreflect the linguistic diversity of the spoken word, and that,
according to the UN, only 500 languages are used online.
The publication also points to a poignant example of the internet's western bias; although Hindi is a native language forsome 310 million people worldwide, and the fourth most spoken native language, less than 0.1% of the 10 million most popular websites are in Hindi.
The general consensus of those affected, unable to communicate online becauseof this issue, is that it discredits their own language. It was commented that "as itis not on the internet then it is not valid, then it does not work, therefore whyshould I continue learning it?".
Technical issues are one of multiple obstacles here, as Oxlaj Kumez explains: "Keyboards are designed for dominant languages", therefore the popularly-used autocorrect will often change their messages. This problem extends to several restrictive areas for indigenous languages, from hardware to programming languages, from website domains to applications and social media platforms.
Initiatives have been taken in an attempt to improve the accessibility ofindigenous languages online, with Unesco in 2003 adopting a recommendation topromote the use of multilingualism online.
Most recently, Unesco has launchedThe Global Task Force for Making a Decade of Action for Indigenous Languages. This initiative paves a solid pathway for ensuring indigenous peoples' right topreserve, revitalize and promote their languages, in addition to mainstreaming linguistic diversity and multilingualism aspects into the sustainable development efforts.
Lingua Libre is a project developed by Wikimédia France. Its purpose is to help communities access online information and ensure the vitality of the languages of these communities. Lingua Libre is aware of the lacks of diversity and orality on the web, and how they limit the ability of Internet users to communicate and contribute online, as they cannot find content and communities sharing their language. The organisation therefore offers an online solution for mass recording, leading to the publication of a collaborative multilingual audiovisual corpus under free licence. The aim is then to document and revitalize languages, by triggering the contribution of new language communities on Lingua Libre and then outside.
The main issue presented here is the absolute need for a lot of work in localisation, and for technology to adapt to people's needs across all communities. Victoria Aguilar says that "The internet is a wonderful channel of communication, but it also reflects the inequalities in real life."
---
Employment Opportunities
Alpha CRC currently has vacancies for the following positions, spanning a range of divisions and clients:
Translation Project Managers for Cambridge and Brno offices

English into Hungarian Translator for Cambridge office

English into Finnish Translator, English into Dutch translator for Berlin office

English into Swedish Translator for Cambridge or Copenhagen offices

English Language Expert for Cambridge office
The job description can be found in the Career section of the Alpha CRC website.
Alpha CRC also has a world-class PM training program forpreparing our PMs for the greatly varied work Alpha CRC does on a daily basis.
Check out the full details from program runner, Charlotte Virgoe, here.
---
Alpha's Latest Content
Alpha CRC has a legion of creative copywriters on subjects centred aroundtranslation and localization, spanning all of our sectors and services.
Read some of our most recent pieces:
And more from our AV spotlight:
We cover a range of content types, including case studies, white papers and thought pieces. There's literally something for everyone.
---