Running, cycling & swimming: The London Classics for the charity SENSE
---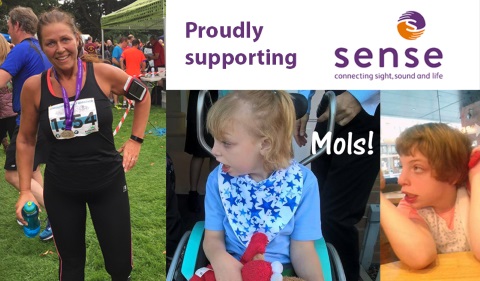 Michele Jones, Impulse's Design Manager is embarking on a fantastic fundraising project in 2019 called The London Classics.
Impulse POP writes:
She is taking on 3 events which comprises of:
The London Marathon 26.2 mile run in April 2019
The Ride London to Surrey 100 mile cycle race in August 2019
The Serpentine Open Water 2 mile Swim
Sense is a charity which supports people who are deafblind, have sensory impairments or complex needs; connecting families and helping people communicate and experience the world.
Michele's dearest friend's youngest daughter Molly, was born with an incredibly rare genetic disorder, Pontocerebellar Hypoplasia Type 1B (PCH1 for short). Mols is 11 years old and is unable to walk or talk, yet she has a wicked sense of humour and loves fairground rides, she is a complete chocolate and milk monster, she loves the atmosphere of the theatre, the most annoying pop music and she idolises animals. All who have the pleasure of knowing her adore her and her best friend Elmo! Basic sign language has empowered Mols with a voice which has given crucial communication skills for her and her family.
This is such a great achievement and here at Impulse we will be behind Michele every step of the way through this journey!
Any donation is greatly appreciated and every penny will make every, pace, pedal and stroke just that bit easier for her.
So please put your hands in your pockets and donate
Thank you so much for your support.
To read more information, click
here.
Design, Manufacture and Deliver Retail Displays. Factory facilities include Metal, Acrylic Fabrication. 24 Hour Laser Production
Impulse Point of Purchase Ltd