Trustees needed at Rowan arts centre and charity
---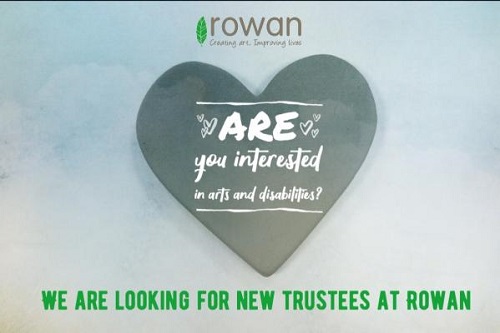 Are you interested in supporting the work of Rowan, the disability and arts charity?
Rowan is looking to recruit Trustees and writes:
What skills are we looking for?
We are looking for people with:
An understanding of how Local Authorities work.
An understanding of adult social care - perhaps a parent.
An understanding or experience of special needs issues.
Experience in volunteer management.
Links to the local Cambridge arts scene - perhaps an artist.
What is involved?
Trustees play an essential and highly valued role at Rowan. As the name suggests, trustees are entrusted with the wellbeing of the charity and ensuring Rowan is carrying out its purposes for the public benefit.
The decisions trustees make not only affect the survival of the organisation but the lives of the people it serves.
You would be required to:
Attend a board meeting one evening per month, be committed to preparing for them adequately and attending them regularly.
Be committed to attending and supporting Rowan at events.
Promote Rowan through your networks and connections.
Help with the charity's financial stability through donor relations.
Visit Rowan and be aware of the good work and challenges facing the charity. 
Provide patronage through giving time, professional skills and money.
What do we do?
Rowan is a local Cambridge based charity and arts centre that works alongside 80 people with learning disabilities. We provide safe and friendly art studios where our students work together with other artists to produce beautiful art and crafts to keep, for exhibition or to sell in support of the charity. We also run music and drama sessions through the week. Please see our website - www.rowanhumberstone.co.uk
Rowan has run for 35 years and has proved beneficial and popular with our students as a place to meet their friends and gain further opportunity for self-expression and creativity. 
Please send expressions of interest to Des Trollip.
Chesterton based charity and arts centre Rowan works with people with learning disabilities in their choice of woodwork, ceramics, printmaking, textiles, mixed-media and the performing arts. Increasing student's confidence and self-esteem in a safe, creative and unique environment.